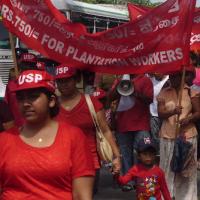 Socialist organisations march to joint rally
After many years, the 2012 May Day in Sri Lanka was a joint left celebration. This included the new Frontline Socialist Party which has arisen from a major split away from the JVP (People's Liberation Front).
The United Socialist Party held its own independent May Day demonstration starting from Maradana Technical Junction and going to Price Park where the joint rally was held.
USP members from all over the country joined our march – from Jaffna in the far North to Galle in the 'deep South'. There were Hill Country plantation Tamils and workers from Colombo, Ratnapura and elsewhere as well as members from the East. Some of the main slogans on the banners we carried were for 'The removal of the Anti Terrorist Act', 'Immediate salary increases of Rs12,500 and Rs 7500 daily for the plantation workers', 'The right of self-determination for Tamils', 'Against imperialism, capitalism, communalism and popular front politics; build the socialist power'.
The NSSP (Nava Sama Samaja Party), together with their trade unions, also had their own May Day march to the joint left rally organised by the FSP. The speakers included leaders of the Frontline Socialist Party, the United Socialist Party, the Nava Sama Samaja Party, the United Federation of Labour, Socialist Party, Maoist Communist Party, Peoples March and the Praxis Movement.