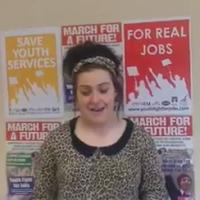 Why Youth Fight for Jobs are commemorating the 1932 Outdoor Relief Strike
On 6 October, Youth Fight for Jobs in Northern Ireland will hold a march of Catholic and Protestant youth, trade unionists and community activists to mark the 80th anniversary of Belfast Outdoor Relief Strike.
In October 1932, thousands of outdoor relief workers in Belfast went on strike to fight for their dignity and benefits they could live on. With the support of the whole working class, they organised mass and rallies. The struggle united Catholic and Protestant workers in the face of violence from bigots and the state. After two weeks of struggle, they won significant concessions.
Youth Fight for Jobs has called this march from Custom House Square, Belfast – where the rally that announced the 1932 strike was held – through the Shankill and Falls areas of Belfast – the heartlands of the struggle – and ending with a rally at Belfast City Hall. Youth Fight for Jobs aim to commemorate the heroic struggle of 1932 and to send a message to the politicians and bosses that today's working class and youth will fight back too!
The march has already received significant trade union support from amongst others, Unite, NIPSA, FBU, PCS, INTO, UCU, BECTU, RMT and TSSA.
Youth Fight for Jobs have produced the following three videos, explaining why they are commemorating the 1932 Outdoor Relief Strike; a school student explaining why she is joining the march; and Youth Fight for Jobs campaigners outlining appealing for youth in Belfast and across Northern Ireland to take part in the demonstration next Saturday.
Socialistworld.net
---
---
Videos from Youth Fight For Jobs