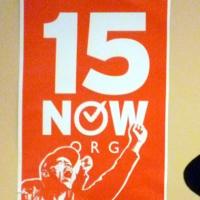 Hundreds attend launch of campaign to fight for decent minimum wage
Below we publish two videos covering the successful launch of the 15 now campaign in Seattle, which hundreds of people attended. The first is a short press report and the second a long video including speeches to the rally by Kshama Sawant, newly-elected Socialist Alternative (CWI supporters in US) councillor and Joe Higgins, Irish Socialist Party (CWI in Ireland) MP.
[If first video does not appear on your browser, see link here]
socialistworld.net
Special financial appeal to all readers of socialistworld.net

Support building alternative socialist media

---

Socialistworld.net provides a unique analysis and perspective of world events. Socialistworld.net also plays a crucial role in building the struggle for socialism across all continents. Capitalism has failed! Assist us to build the fight-back and prepare for the stormy period of class struggles ahead. Please make a donation to help us reach more readers and to widen our socialist campaigning work across the world.

Donate via Paypal

CWI- Please inform us if you are reproducing any material from this site.