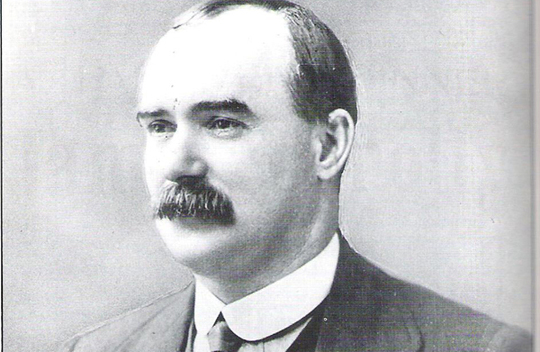 Revolutionary socialist, militant workers' leader and internationalist
Today (12 May) marks the 100th anniversary of the execution of James Connolly, by a British army firing squad, for his key role in the 1916 Easter rising in Dublin.
James Connolly was a Marxist, a revolutionary socialist and an internationalist. His life was one of unremitting struggle to advance the interests of the working class and overthrow the existing social order. Born into the working classes in Edinburgh in 1868, of Irish parentage, Connolly was largely self-educated. In spite of a life of unending poverty for him and his family, Connolly developed into a brilliant socialist speaker, writer, polemicist and organiser. As well as making an original contribution to the ideas of Marxism, Connolly was an outstanding workers' leader in Ireland, Scotland and the US.
Since his death, Connolly's ideas of international, working-class unity and socialism have been distorted by many wishing to link him with their banner. Others consciously neglect or ignore his role. This year, the official Irish State's Easter Rising commemorations paid scant attention to Connolly and his political thought.
For good reason! As the three articles below show, Connolly's life of unremitting struggle on the side of the working class and his revolutionary socialist ideas represented a threat to the existing social order and still do so, today.
In '"Bold, brave, undaunted": James Connolly's socialist legacy' http://socialistparty.ie/2016/05/bold-brave-undaunted-james-connollys-socialist-legacy/, Cillian Gillespie gives an overview of Connolly's main ideas (first published in The Socialist, May 2016, paper of the Socialist Party – CWI Ireland).
In 'The real ideas of James Connolly' http://www.socialismtoday.org/100/connolly.html (first published in Socialism Today May 2006) Peter Hadden reviews Connolly's life of working class activism and his ideas as they evolved.
And in 'Labour in Irish History revisited' (first published in Socialism Today May 2010) Niall Mulholland examines the Marxist view of Irish history that Connolly elaborated in his most important book: http://www.socialistworld.net/mob/doc/4724
Socialistworld.net
Special financial appeal to all readers of socialistworld.net

Support building alternative socialist media

---

Socialistworld.net provides a unique analysis and perspective of world events. Socialistworld.net also plays a crucial role in building the struggle for socialism across all continents. Capitalism has failed! Assist us to build the fight-back and prepare for the stormy period of class struggles ahead. Please make a donation to help us reach more readers and to widen our socialist campaigning work across the world.

Donate via Paypal

CWI- Please inform us if you are reproducing any material from this site.