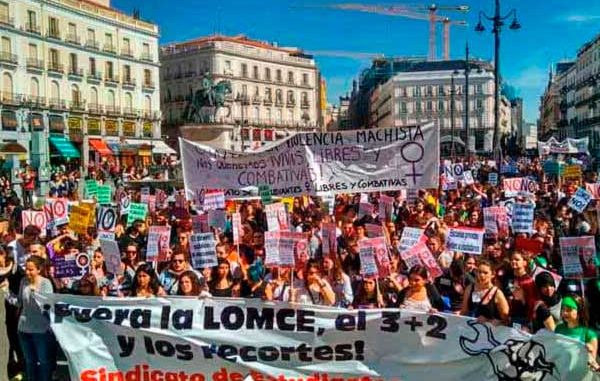 Over 100,000 take to the streets in SE demonstrations.
The general strike of the education sector called by the Sindiato de Estudiantes and the Platform in Defence of Public Education (which brings together teachers unions, parents associations and the Sindicato de Estudiantes) for 9 March was massive and solid. There was mass participation of students at all levels and in all parts of the state. Over 80% in universities and over 90% in secondary schools participated in the strike.
Click here for a photo gallery
The Sindicato organised over 70 morning demonstrations which were also massive: in Barcelona, Madrid, Bilbao, Valencia, Alacant, Sevilla, Granada, Málaga, Almería, Cádiz, Ferrol, Santiago, Vigo, A Coruña, Tarragona, Oviedo, Gijón, Zaragoza, Tenerife, Mallorca, Guadalajara, Toledo, Murcia and many other cities, tens of thousands – over 100,000 in total – filled the streets. Despite this huge show of strength, the Education Minister, Iñigo Méndez de Vigo, declared that the strike was "insignificant". Could he lie any more blatantly? This man, like his predecessor, needs to resign and stop insulting students and teachers.
This tremendous strike, which culminated in the evening with massive united demonstrations of parents, teachers and students – with 200,000 marching in Madrid – sent a clear message to the PP and all parties which prop it up – Ciudadanos and the illegitimate leadership of PSOE. The message was clear: we will not accept the so-called "education pact" which this triple alliance is drawing up, for the simple reason that it only represents a continuation of cuts and laws which have attacked public education over the last years.
Some days ago, Ana Garcia, spokesperson for the Sindicato de Estudiantes, was invited by Unidos Podemos (parliamentary group of Podemos and United Left) to speak on the government's education policies. She backed up her arguments with figures and objective facts – €9 billion cut from school and universities, 30,000 teachers sacked. Degradation of classrooms, rising failure rates and over 20,000 students not admitted to professional training over the last 2 years. 100,000 students expelled from university because of inability to pay fees which have risen by 60% in six years. As Ana explained, these and other attacks are also implemented in regions governed by PSOE, such as Andalucia.
For denouncing this social emergency in parliament, she earned the disdain of the representatives of the triple austerity alliance. Teófila Martínez, President of the commission, as well as several MPs from Ciudadanos and PSOE, constantly interrupted, denigrated and ridiculed her to try and stop her explaining these home truths. If anything was clarified in this commission, it was that the PP, Ciudadanos and the current PSOE leadership are totally out of touch with the problems which millions of working class families face every day.
We in the Sindicato de Estudiantes will not accept anything less than the putting into practice of the just demands of the education movement. Enough games and words! We call for the immediate elimination of the anti-social education bills (LOMCE and 3+2) That all money cut from public education is returned and all attacks are reversed, such as the sackings of teachers. That the degradation of classrooms is ended and that free professional training schemes are restored. All students expelled from education for not having money to pay fees must be re-admitted, abusive fees abolished and decent grants be paid to working class families.
Struggle is the only way. The strikes and demonstrations called by the Sindicato de Estudiantes on 26 October and 24 November were participated in by millions of students in all areas, and this was how we obliged the PP to withdraw the francoist "revalidation" exams. But this one victory does not satisfy us. If the right-wing government and its accomplices in the parliament continue to disrespect the demands of the education movement, the student movement, of the millions of working class families which have been struggling for years now to stop this offensive on the right to study, our mobilisations will continue and get stronger, harder and longer in the next months.
We also want to underline the great response of students to our call for one-hour strikes on 8 March against violence against women and for the rights of working class women. The massive protests which took place all over the country were historic: more than one million people participated. These mobilisations, as well as the education strike, show that we are close to a new phase of social rebellion. Working class people and youth are not tolerating this government, and its hypocrisy.
They call it democracy, but it's not. It is an utterly corrupt system, which leaves corrupt politicians, businessmen and members of the royal family walking free while they cut the public budget to obscenely enrich themselves. They cut public health, education, and essential social services every day, while eliminating our rights and freedoms. They are the extremists, and they are showing it clearly.