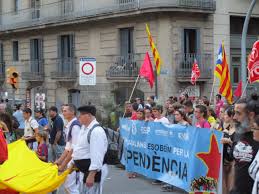 Defeat article 155 and Francoist repression with mass mobilisation!
The declaration of the Catalan Republic by the Catalan parliament has provoked an immediate reaction from the state, the PP government and its allies, Ciudadanos and PSOE.
The attempt to crush the will of the people which was expressed on 1 October, exercising the right to decide on their future despite brutal police violence, and after an historic general strike 2 days later, is the response of the state inherited from Francoism and the establishment parties to the revolutionary crisis in Catalonia.
We, as Revolutionary Marxists who oppose all forms of national and class oppression, insist that the struggle for a Catalan Republic has to be linked to a political programme of action against cuts and austerity, which breaks with the logic of capitalism and the domination of the oligarchy, both Spanish and Catalan. The Catalan Republic must be a Republic of the people, the oppressed, the youth and the workers. Therefore, we cannot leave this republic and the defense of it in the hands of the bourgeois politicians of the PdeCAT party who defend the interests of the elite. Fighting for a Republic which defends the aspirations of the majority is part of the fight to change society along socialist lines.
The working class must be the fundamental force in the fight against repression and for the Catalan Republic, but this can only happen if it is linked to policies to create quality jobs, to eliminate evictions and precariousness, and to defend public health and education. A Republic which ends economic sabotage by the capitalists by nationalising the banks and big companies.
This is the only way to win the Republic and defend it, mobilising the power of the Catalan working class to defeat the repressive offensive of the state and of the government.
The Spanish and Catalan bourgeoisie, the media, all the establishment parties, the justice system, security forces and monarchy have all united to crush the will of the working people in Catalonia. They do so in the way of the Spanish ruling class every time its system and political power are threatened: through state violence and coercion to ensure order.
The Spanish and Catalan ruling classes look with terror on the proclamation of a Catalan Republic. This is not only because it would ruin their nationalist idea of a great, united Spain. They know that this would be the prelude to an even more intense and deep struggle in the interests of the oppresed, against capitalist domination, against the established social order and for a socialist Republic in Catalonia, and a Federal Socialist Republic throughout the state, based on the free and voluntary unity of peoples and nations. This struggle is already winning the active solidarity of the oppressed masses of Europe and the world.
Long live Catalonia, Republican and Socialist!