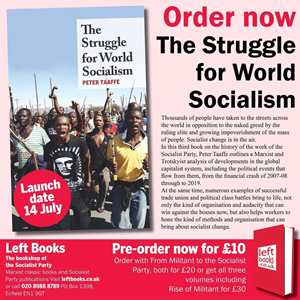 Socialist change is in the air!
New book: The Struggle for World Socialism
By Peter Taaffe, former editor of Militant and general secretary of the Socialist Party until 2020
Learn more about the fight for socialist revolution, in this, the third volume of the history of the Committee for a Workers' International (CWI) and the Socialist Party, formerly Militant, which is out soon!
Official launch 14 July. Details to follow
Pre-order your copy now for the pre-sale special price of £10 (rrp £12)
In this book Peter Taaffe outlines a Marxist and Trotskyist analysis of developments in the global capitalist system, including the political events that flow from them, from the financial crash of 2007-08 through to 2019 and all the struggles and battles in that period.
You can also avail of a special offer of £20 for The Struggle for World Socialism and the second part of the trilogy, From Militant to the Socialist Party.
Or £30 for those two plus The Rise of Militant, the first of the three.