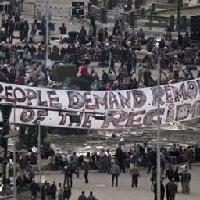 Kick out Mubarak and his cronies
The following leaflet, produced by the Socialist Party (CWI England and Wales), will be distributed during a demonstration in central London called for tomorrow, Saturday 5 February. The march will descend on the Egyptian embassy, demanding the immediate end of Mubarak and his regime.
Leaflet (CWI England and Wales)
More protests in solidarity with Egyptian masses took place this week across Europe, and in other parts of the world, and many are expected over the coming weekend.
Socialistworld.net