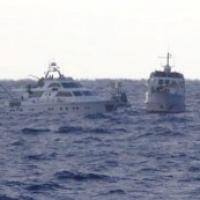 Flotillas blocked and activists detained – Send protests urgently!
Socialist Party MEP, Paul Murphy, has been detained by the Israeli Army, along with other activists from the MV Saoirse and the Canadian boat the Tahrir.
The boat had been part of the Freedom Waves flotilla that attempted to travel to Gaza in solidarity with the suffering Palestinian people and to deliver humanitarian aid. The blockade is in its fifth year and is illegal. This collective punishment has led to untold hardship for the Palestinian people as vital medical supplies and building material is not allowed through.
A protest has been called for this evening in central Dublin in solidarity with the detained activists.
The CWI appeals to readers to immediately protest to Israeli embassies/authorities, demanding the immediate release of Paul Murphy and all other activists from the Saoirse and Tahrir.