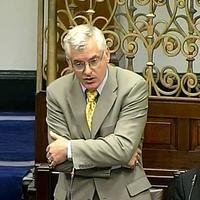 Government ministers "have not uttered a single word of protest in public in response to this outrage"
Here we publish a video of Joe Higgins TD (member of the Irish Parliament) questioning the Tánaiste (deputy prime minister) & Foreign Minister, Eamon Gilmore, over the continuing illegal imprisonment of 14 Irish citizens by the Israeli state. These activists were kidnapped in international waters on their way to deliver humanitarian aid to Gaza.
Joe demands that the Israeli ambassador be given one hour to secure the release of the activists or be expelled from Ireland.
For more background infomation see previous articles here