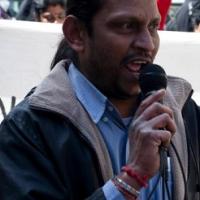 'Thas' granted asylum in Belgium
Muruganandam Murugathas (known to friends as 'Thas') a prominent activist with Tamil Solidarity and LSP (=CWI in Belgium),was threatened with expulsion and deportation to Sri Lanka. Thanks to the pressure of the campaign set up in his support, the deportation was successfully halted, and Thas has been granted asylum in Belgium.
Clink on this link to read the full article on Tamil Solidarity website.