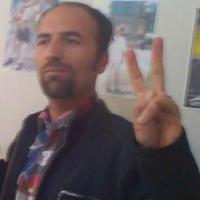 Support jailed labour activist's demands against critical dentention conditions
The health of Behnam Ebrahimzadeh, a member of the Committee to Pursue the Establishment of Workers' Organizations who has been in jail June 2010, is now in a dangerous condition after being on hunger strike for nearly a month. After suffering two spells of solitary confinement this year Behnam Ebrahimzadeh began his hunger strike on August 8th, 2014, in support of his demands to be transferred back to the Ward 350 at Evin prison and to receive medical treatment for his longstanding health problems.
On August 12th, 2014, he was moved from the Evin Prison to Ward 1 at Rajai Shahr Prison which is designated for common criminals who are serving long sentences.
In similar previous cases, the prison officials and the judiciary of the Islamic Republic of Iran have shown that only domestic and international pressure can force them to accept the demands of the protesting prisoners. While this retreated from government officials carried, the prisoner is in a physically dangerous situation.
Obviously a prolonged hunger strike by protesting prisoners can have the detrimental effects on their physical health. In this case we as labour union and political activists and human rights activists need to put pressure on the judicial system and the prison system of Islamic government to meet Behnam Ebrahimzadeh's demands immediately and so enable him to end his hunger strike protest.
Not only does this hunger strike put his health at risk, but it also has a detrimental effects on his son's treatment for Leukemia..
Hence, we call all worker activists, trade associations and political organisations inside and outside Iran, for practical support and efforts to attract international support for Behnam Ebrahimzadeh. In this regard, the members and activists of the Campaign in Support Workers of Iran, will organise more activities in addition to continuing to contact relevant organizations and other trade unions activists.
Please send protest letters to below Email addresses:
Head of the Iranian Judiciary: larijani@maileskhobregan.ir
Speaker of the Iranian Paraliament:a.larijani@parliran.ir
President of Iran: news@president92.ir
With copies to karzarpki@gmail.com