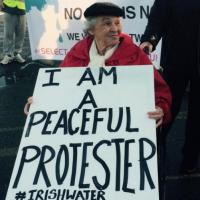 Solidarity protests needed
Following the dawn arrests of 4 anti-water tax activists – including Paul Murphy TD (Irish MP) and Anti-Austerity Alliance councillors, Kieran Mahon and Mick Murphy – yesterday in Dublin, new arrests have been made this morning. We publish a statement by the Anti-Austerity Alliance below.
Paul Murphy's media appearances – on radio and national TV -following his release can also be seen / heard here (first 10 minuites especially) and here
The CWI calls on socialists and trade unionists internationally to send protests to the Garda (Irish police) HQ condemning this act of political policing, clearly intended to intimidate the anti-water charges mass movement.
These protests – against the political detention of anti-water charges activists -should be addressed to Garda Commissioner, Noirin O Sullivan, and emailed to pressoffice@garda.ie with copies to webmaster@taoiseach.gov.ie and info@socialistparty.ie. Pickets of Irish embassies/ consulates against political policing of peaceful protestors will also be welcome.
socialistworld.net
'Gardaí score another own goal' with 4 more Jobstown arrests
· Is this the beginning of 10 days of 'dawn raids'?
· 4 more people arrested including 16 year old who was arrested by 10 Gardaí
Anti-Austerity Alliance press statement
Four more people have been arrested in relation to the Jobstown protest which saw Paul Murphy TD arrested yesterday.
Paul Murphy TD said: "Today four more people have been arrested in relation to the protest. They were treated to the same heavy handed tactics of having numerous Garda arrive at their door in the early hours of the morning.
"The Gardaí scored a massive own goal yesterday and have scored another one today with these arrests. One of those arrested is a 16 year old who unbelievably had 10 Gardaí arrive at his door.
"According to some of the media the Gardaí plan to arrest up to 40 people in relation to the protest. With four people yesterday and four people today, is this the beginning of a period of 10 days of dawn raids on peaceful protestors? Are the Gardaí planning to make an example of up to forty people to send a political message to the rest of the country that it's not okay to protest? This is political policing."