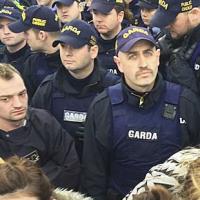 Organise international solidarity!
Arrests – including that of a 14-year old – have been made for the third consecutive day in Dublin as political policing against anti-water charges protestors continues.
A video of Socialist Party (CWI in Ireland) TD, Ruth Coppinger discussing the issue on Irish TV last night can be seen here (9 minutes in).
These protests – against the political detention of anti-water charges activists -should be addressed to Garda Commissioner, Noirin O Sullivan, and emailed to pressoffice@garda.ie with copies to webmaster@taoiseach.gov.ie and info@socialistparty.ie. Pickets of Irish embassies/ consulates against political policing of peaceful protestors will also be welcome.