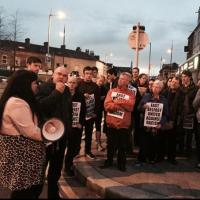 Build a united mass movement to challenge racism, sectarianism and all forms of bigotry
On the evening of Tuesday 14 April, around 200 people gathered in east Belfast to protest against a racist arson attack on a nail salon owned by Lithuanian woman Asta Samaliute which had taken place the night before. The protest – which was initiated by Socialist Youth member Courtney Robinson and organised over social media with only a few hours' notice – drew significant support from the local, working class community.
At the protest, Courtney said, "The turnout tonight, at such short notice, shows that the people of east Belfast are disgusted by the racist attacks being carried out by a tiny minority of cowards. We stand shoulder to shoulder with Asta and all our neighbours from other countries. When attacks like this take place, we will take to the streets to isolate the racists."
The protest was also addressed by Padraig Mulholland (President of NIPSA, the largest trade union in Northern Ireland) and a number of local politicians.
Asta was visibly moved by the support she has received from her neighbours and the wider community, saying that she and her partner had been considering leaving Northern Ireland until they saw the huge response from ordinary people. A crowd-funding initiative to help her restart her business raised over £4,000 in less than a day.
Recent weeks have seen a spate of racist attacks across Belfast. Sections of the loyalist paramilitaries, with links to the far-right, are orchestrating attacks in Protestant working class communities, but racism exists, and racist attacks take place, on both sides of the sectarian divide.
Racism begins at top
While the effects of racism are most visible in working class communities, it begins at the top of society. Last summer, First Minister Peter Robinson shockingly defended comments from a pastor who suggested that Muslims were not "trustworthy" – although Robinson conceded he might trust them to "go to the shop" for him. Right-wing politicians – aided and abetted by the big business media – scapegoat immigrants for the conditions caused by their austerity policies.
In response, we need to build a united mass movement to challenge racism, sectarianism and all forms of bigotry. Such a movement must also challenge the social conditions which allow these poisonous ideas to grow – mass unemployment, poverty and hopelessness. That means taking on the austerity agenda being implemented by all the five parties in the Northern Ireland Assembly Executive and fighting for jobs, homes, public services and a decent future for all. The trade union movement has a responsibility to make this a reality.