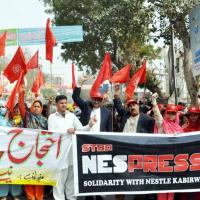 International action needed
The Nestle management has forcibly locked out the 800 low paid contract workers from the Kabirwala factory since September 2015. Management instructed the gate security to stop the workers entering the factory – none of the workers were notified of the termination of their contract prior to this.
These low paid, poor workers and their families are facing hunger and starvation because of forced sackings. They waged a protest outside the factory gates for 48 days. These protests were broken up with the help of police. Now, the management is witch-hunting union (employees' trades union at the Nestle Kabirwala factory) leaders and other key union activists with the help of Police. Accusations have been filed at the police station against 89 key union activists. The President of the union, Muhammad Hussain Bhatti, is already behind bars for more than one month. He and others also face draconian "anti-terrorism laws".
The Nestle management signed an agreement with the union in 2012 in which it was agreed that the management would regularise the services of 588 contract workers and that they would get all benefits provided for under the labour laws. Now, the management is violating the agreement and trying to replace the contract labour in violation of this agreement.
Nestle workers action committee is demanding
1. All contract workers should be regularised.
2. Management should lift the ban on workers entry into the factory, and allow them to return to work.
3. Withdraw all baseless false cases and accusations against union leaders, union activists and workers.
4. Nestle management should implement fully the agreement signed by the management and union.
We request comrades to send solidarity messages to
Nestle workers action committee and to Pakistan national trade union federation
Email of Leader of Nestle workers action committee: imranbari80@gmail.com
Pakistan National Trade Union Federation: pntufcenter@gmail.com
With copies to cwi@worldsoc.co.uk
Please send you condemnations to
Nestle head office in Switzerland:
GLOBAL HEADQUARTERS
Nestlé S.A. Avenue Nestlé 55, 1800 Vevey, Switzerland
General enquiries +41 21 924 1111
Media +41 21 924 2200
mediarelations@nestle.com
Nestle management in Pakistan: NAATA@pk.nestle.com
Please also include Emails to the management in your country : You can find those details here http://www.nestle.com/aboutus/globalpresence
Please organise pickets of Nestle offices or plants if you can.
Also please contact trade unions and other labour organisations to send protest and solidarity messages -and ask them to take whatever the actions they can regarding this.
Please also send us the reports and photos of your activities.