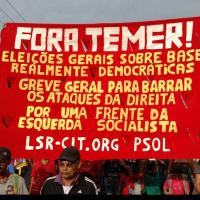 LSR (CWI) forces participation highlighted
Mass protests have begun against the new neo-liberal government which was undemocratically installed in Brazil. Tens of thousands took to the streets of Sao Paolo on 22 May to demand the fall of the Temer government, which has already been exposed as an attempt by the ruling class to cut across a growing corruption scandal which impacts on all capitalist parties in the country, as well as personally implicating many of Temer's new cabinet.
The demonstration was organised by the "Povo sem medo" (people without fear) front, led by the MTST, landless workers social movement, in which the LSR (CWI in Brazil) – a revolutionary marxist current in the PSOL party – participates.
Media outlets, including the front page of one of Sao Paolo's main newspapers, featured the participation of LSR in these protests, with our banner outlining our main demands for the situation widely shared and viewed. It reads "Temer out! For general elections on a really democratic basis! General strike against the attacks of the right! For a united front of the socialist Left!"
LSR, along with a number of other Left organisations, has also initiated a campaign for a united front of the socialist Left. This initiative was begun with a meeting in Sao Paolo last week which was attended by over 200 people from 5 different Left organisations.
Here we post some photos of these events. More analysis and news to follow