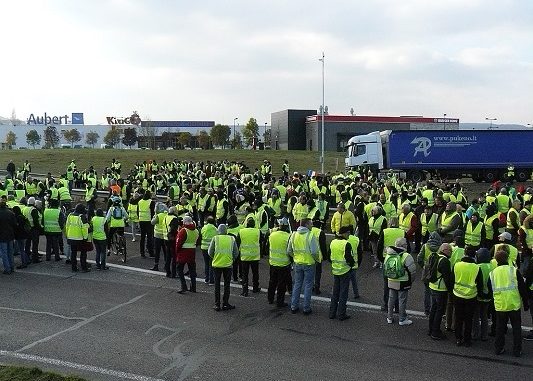 Over the last weeks, France has witnessed widespread protest against neoliberal president Emmanuel Macron and his government. Close to 500,000 people blockaded roads and roundabouts on Saturday 17 November.
The protesters wear 'gilets jaunes' – yellow high-visibility vests, a legal requirement for motorists to have in their cars in France. They were initially protesting against increased taxes on diesel.
But protests organised via social media quickly developed into a general mobilisation against Macron and his pro-big business agenda.
When returning from Toulouse in south-west France on Sunday 18 November we encountered two blockades. The first, close to the airport, immobilised the toll booths, with protesters waving traffic through without payment. Reports of other blockades across France were posted on Facebook.
The second was on a huge roundabout outside Albi, a town near Toulouse. Here, as we approached, we could see protesters had closed down traffic lanes. On the roundabout itself, traffic flow was controlled by protesters in high-vis jackets – police intervention clearly ruled out.
Volatility
These demonstrations show the volatility of the political situation in France. Spontaneous popular movements such as this are erupting alongside more planned actions such as the teachers' strike which took place on Monday 12 November.
Saturday 24 November saw the protests move into the main town centres, assembling around the 'préfectures', the government administration buildings. All across France, vehicles formed slow-moving processions and roads continued to be controlled by protesters.
In Albi, a noisy but peaceful procession of heavy vehicles, motorbikes and about 300 protesters was met by riot police.
Protesters refused to disperse and moved a police vehicle out of their way to allow a digger to lead the procession past the préfecture. The police used tear gas, but the protesters remained until a delegation was invited to meet local officials.
Another big day of action was called on Saturday 1 December, this time by trade unions as well as the gilets jaunes.
Gauche Révolutionnaire – the Socialist Party's sister party in France – calls for the movement to urgently build for a day of general strike and blockades. This needs to involve both the public and private sectors for maximum strength, to stop tax increases and further attacks on living standards by Macron's 'government for the millionaires'.
More reports and analysis from France of the 'gilets jaunes' movement will be published this week on socialistworld.net