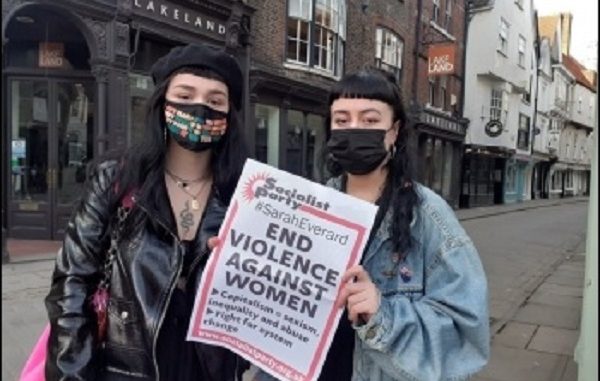 25 November was International Day for the Elimination of Violence Against Women. Below we print extracts of a leaflet the Socialist Party (CWI England & Wales) produced for campaigning on the issue of gender violence and harassment in the universities and colleges.
In the UK, 97% of young women have experienced sexual harassment. This stat confirms what we all know, that sexual harassment is its own pandemic. From sexual harassment on campus, on nights out, or at work, we are fed up and want change.
From the climate to the housing crisis, tuition fees to sexism, capitalism has failed to fix any of the huge problems in society. All of these issues have been met by growing movements demanding change.
Rather than fighting to challenge sexism and sexual harassment, the only 'solution' offered by capitalist representatives such as Tory Philip Allott is that women should moderate their behaviour. But being 'streetwise' won't protect women from violence and offers no way forward to end sexism.
You could take Allott's comments right out of the 1950's. But women's rights have not stood still over the decades; we have more rights and protections today thanks to the mass struggles, organising, protests and strike action that has taken place. Including the recent action by university staff in the UCU, who have been on strike for equal pay.
The #GirlsNightIn boycotts and protests have brought important attention to safety, sexism and harassment, forcing many student unions and other venues to acknowledge the issue.
But acknowledging the issue isn't enough. Private companies dominate and control the media, fashion and beauty industries and own nightclubs. They reflect and promote sexist ideas to make a profit. Such as when clubs demand female staff wear less clothing to draw in customers.
A mass movement against sexism and inequality, which challenges the few who profit from sexism, could not only win changes to give us safe nights out but huge improvements in the rest of our lives too.
Sexism in education and on campus
Outrageously, in one study nine out of ten girls said sexist name-calling and being sent unwanted sexual pictures happened "a lot" or "sometimes". On university campuses, one in five students experiences sexual harassment in their first week of studying.
Action by school students has already prompted the government to conduct a special report. But the government can't be allowed to hide behind yet another report. We want action now.
Instead of facing up to the scale of the problem, education managers and university bosses have turned to 'gagging orders'- clauses designed to protect business trade secrets – as part of the sexual harassment complaints process. Unsurprisingly, just 2% of students who make formal complaints are satisfied with the reporting process.
While these procedures are in the hands of management, the bosses and the government, it is clear that reputation and cost-saving will be prioritised over staff and student welfare. We must build fighting, democratic school and student unions to achieve the protection and support we need. This should include overhauling complaints procedures to ensure they are fit for purpose and properly enforced.
Winning safe social spaces for students will mean fighting for investment and funding, including for more support services for staff and students experiencing harassment and abuse. It means fighting for funding of shuttle transport between halls, proper public transport and decent lighting at night.
Sexism on nights out
Everyone should be able to enjoy nights out without fear of harassment, racial profiling or violence. Increased policing or CCTV on its own won't solve these problems and can make some people feel less safe.
For real safety on a night out we need control over the stewarding and safety measures in place in bars and clubs. Democratically accountable and elected committees of students, young people, workers, trade unions and local authorities should oversee the implementation of safety measures in their area.
Venues should be made to increase staffing levels to ensure workers have the time to offer effective support, alongside increased training, so staff can identify and support those at risk. All venues should be made immediately to offer free covers for drinks.
Sexual violence at work
Insecurity at work can make people feel they have to 'put up' with unwanted behaviours, whether from colleagues or customers. An end to zero-hour contracts and job insecurity, including trade union rights from day one can help give workers the confidence to report harassment.
The trade union movement has a responsibility to fight to make sure every workplace is safe and free from sexual harassment and violence. This should include fighting for employers to provide safe transport for staff getting home late.
Properly funded public transport, with decent staffing levels, alongside proper street lighting, can all help to make sure people get home safe.
The police
The Tory government's only response to reports of sexual violence and harassment has been to promise increased police powers and undercover cops in clubs. But the record of the police makes clear this won't be enough to make women feel safe and may have the opposite effect.
The low prosecution rates for sexual harassment, and the culture of sexism and violence in the police exposed by the murder of Sarah Everard and the killings of Bibaa Henry and Nicole Smallman, mean that many victims fail to get any type of justice or support.
We need genuine accountability: local democratic control of the police through our communities and trade unions.
Fight for socialism
It has now been over a decade since the NUS report into sexual violence on UK university campuses and, if anything, the problem is getting worse. Raising awareness is not enough. Education and training about sexism and consent is important: prejudices, gender stereotyping, and sexist behaviour should be challenged whenever we see them. But just raising awareness fails to highlight the systemic nature of oppression. Sexist ideas are the product of a system that aims to divide and exploit.
The huge scale of sexist ideas shows they are the consequence of a fundamentally unequal capitalist system. A small minority owns the huge majority of wealth in society. They control the media, fashion and beauty industries, turn women's bodies into commodities to make a profit and materially benefit from the exploitation of women through low-paid, precarious jobs and the unpaid work that women do in the home.
Systemic problems require systemic solutions. To eliminate gender violence we need to challenge the root cause of sexist ideas by taking economic and political control out of the small minority who profit from inequality and oppression. A mass movement of young people, students and trade unions to challenge sexism and fight for a real alternative to capitalism is a vital step in this process.
---
Universities must invest in social spaces for students and more on-campus support services for students and staff experiencing harassment and abuse. Build democratic student unions to oversee this
All venues should implement more safety measures – such as more training for staff to identify and support those at risk, as well as providing free covers for drinks. Staffing levels must ensure that they have time to give support effectively
Joint elected and democratically accountable committees of trade unions, local authorities, students and young workers to oversee safety measures in clubs and bars in their area
With clubs and bars opening much later, there should be more investment in public transport and street lighting to ensure that young people can get home safely
A massive increase in funding for resources and support services at a national and local level for women experiencing violence and abuse
Democratic trade union and community control of the police
Fight for a socialist alternative to the sexism, inequality and crisis of the capitalist system