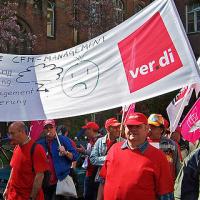 Support the striking workers of the Charité Facility Management company (CFM) in Berlin!
98.6 % of the unionised Charité Facility Management (CFM) workers in Germany's capital Berlin have voted in an official ballot for a strike, with the main demand of winning a collective bargaining agreement, which will start on Monday, September 12.
The CFM is an outsourced and half-privatised, profit-oriented company at Europe's largest university hospital, the Charité in Berlin. The Charité has been outsourcing next to all services that are not of a primary nursing or medical character into the CFM since 2006, including maintenance, sterilisation, call centre, security, kitchen and cleaning staff. Scandalously this policy was carried out by the so-called "red-red", SPD-Left party, run Berlin city government which owns the hospital and which faces regional elections on September 17.
Workers there have no collective bargaining agreement. The trade union ver.di has been demanding such an agreement for years now but this has not been concluded up to now. For many of the roughly 2,600 workers this means wages of around 7 euro an hour leaving them with about 900 euro a month for a full-time job. The CFM-workers went on strike along with the Charité nurses in May this year. Their two-week-strike forced management to start collective bargaining negotiations but after three months of talks and a ridiculous offer by the CFM-bosses that did not include all groups of workers and for most did not mean any improvement, an overwhelming majority of workers have now voted for strike.
Since the main demand is a collective bargaining agreement with adequate wages, this struggle is a very important step in the fight against the advance of precarious working conditions and also the profit margins that lie in the privatisation of health care services. Already, the CFM is used as a role-model for privatisation in the sector.
Trade unionists from the Charité clinic along with other workers, SAV (Sozialistische Alternative – CWI in Germany) members and supporters of other organisations have organised a solidarity committee which actively supports the strikers wherever possible.
The struggling workers need all the solidarity they can get. Please send messages to cfm_solikomitee@yahoo.de and mail@cfm-charite.de
Below you can find a draft solidarity letter.
Dear colleagues,
We/I have heard through the comrades of the CWI in Germany, the Sozialistische Alternative (SAV), that you have gone on strike in order to win a collective bargaining agreement and fair wages.
We/I want to express our/my deepest solidarity for your struggle, which I/we regard as a very important step in the struggle against lowering wages and deteriorating working conditions imposed by capitalist privatisation politics.
We are/I am convinced that the privatisation of parts or the whole of the health care sector does not bring about any improvement for the patients or the workers. It is one of a whole range of public services, including public transport, energy, water and all social services, that cannot be run on capitalism's drive for profits without leading to worsening conditions for the working class.
We/I sincerely hope that you will reach your aims and push through the fulfilment of your demands. We are/I am enraged to hear that in 2011 a full-time job in the largest European university hospital does not pay a wage that would even cover the basic demands of daily life.
A success in your struggle would be a great example for workers around the world to fight privatisation and precarious working conditions. Also, a successful struggle might impose political pressure on the Berlin government to reintegrate the CFM into the Charité, thus limiting the attractiveness of outsourcing.
We/I will spread the information on your strike hoping to support your struggle further. It is a common struggle that we lead. A struggle for one is a struggle for all.
In Solidarity,
(Name)
(trade union)
(any position or function)
(location)