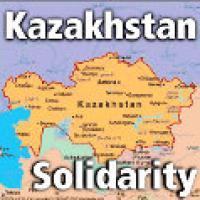 Condemn brutal attack on media freedom, Solidarity needed!
A brutal attack has been carried out on reporters in Kazakhstan by armed thugs – another violent episode in the harassment of workers, opposition activists and those who try to publicise their struggles. Camera operator Asan Amilov and reporter Orken Zholmergenov from the Stan TV video portal were in Aktau, West Kazakhstan, to report on the strike by oil workers now entering its sixth month. (See previous articles on socialistworld.net)
As they were coming out of a building, four thugs jumped out of a parked car and began to violently beat the two Stan TV reporters with baseball clubs. They were hitting them so hard that one of the clubs actually broke. As the brutality continued, one of the henchmen drew a pneumatic pistol and shot Orken in the back and Asan in the leg. The attackers then made off with a notebook and a video camera holding coverage of the oil workers' cause. They climbed back into their vehicle and raced off.
The two Stan TV journalists were taken to hospital where doctors disgracefully refused to treat them until the police arrived. When they arrived, they immediately isolated the two injured reporters from others who had gathered.
Please send immediate protests to Kazakhstan Embassies worldwide demanding an immediate investigation into the identity of these thugs, referring to the white Toyota Prado they were using – registration number 708.
The police department in the city should be bombarded with emails on aktau_uvd@mail.kz and the Head of the Police in Aktau can be phoned on +7 7292 474801.
Please send copies of any protests to: KazakhstanSolidarity@gmail.com