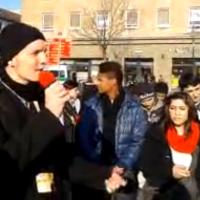 Paul Murphy MEP supports struggle for an independent students' union
Students at the German University in Cairo (GUC) are struggling for the right to have their own democratic students' union. The university authorities reacted with attempts to ban student union meetings on campus and the suspension of lectures and seminars (for more background information see 'German University in Cairo locks-out students', 15/11/2011)
Following an appeal on socialistworld.net, earlier this week, protests letters to the GUC authorities arrived from around the world, from Lebanon, Nigeria and Ireland, for example. The protest letters are from student organisations, socialists and elected representatives, such as Paul Murphy Socialist Party MEP (CWI Ireland) and Anthony Main, Socialist Party Councillor, Yarra, Melbourne.
Students in Germany have also taken solidarity action with the students at GUC. Yesterday, over 1,500 school students and further education students took to the streets of Dortmund, as part of an international day of education protests. The Dortmund students expressed solidarity with the students at the German University in Cairo, demanding the immediate reinstatement of expelled students and full rights for the students' union at GUC.
A video of the message of solidarity and protest from Dortmund can be viewed here.
We appeal to all readers to continue sending in protest letters the German University of Cairo authorities:
Dr. Laila Mahran, Vice President for Student Affairs
The German University in Cairo
New Cairo City
Main Entrance El Tagamoa El Khames
Tel: +202 27589990-8
Fax: +202 27581041
Send emails to Prof. Dr. Laila Mahran (Vice President for Student Affairs, The German University in Cairo) at: laila.mahran@guc.edu.eg
And also to the GUC Presidential Cabinet: http://www.guc.edu.eg/AboutGUC/en/Trustees/PresidentCabinet.aspx
Please send copies of your protests to cwi@worldsoc.co.uk and they will be passed on to the GUC student activists