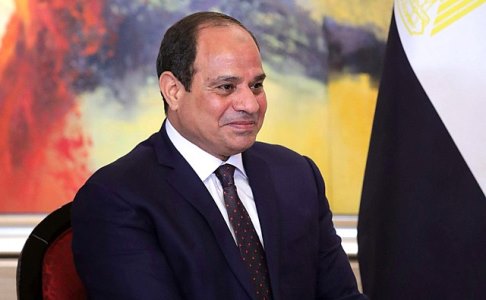 Egypt's severe economic crisis is worsening. During President Abdel Fattah al-Sisi's tenth year in power, working-class people, the urban poor, and even previously comfortably-off middle-class families, are being hit hard. After years of very few strikes, recent reports of workers taking action to defend their living standards show hopes that Sisi will sort this out are fading.
In early January, Misr Cement Qena workers in Upper Egypt began a sit-in, protesting about working conditions, non-payment of bonuses since 2016, and demanding a wage rise. In February, strikes developed at Leoni Wiring Systems and Mac, part of the large Egyptian carpet manufacturer, Oriental Weavers Group. Both were for pay rises to catch up with rocketing inflation.
Thousands of Leoni workers at the two Nasr Free Zone factories in Cairo came out on strike on 29th January. The German-owned cable manufacturing company then locked out the workers and suspended 65 of them with an ultimatum they would not be taken back, "without a written pledge not to resume the strike. And if they do, they will bear legal consequences, which may reach the level of dismissal."
As usual, the company's trade union committee sided with management. "The committee rejects the strike and considers it an illegal act that harms the standing of the company's Egyptian branch compared to other international branches," a leading committee member told independent news website Mada Masr. Just as under former President Hosni Mubarak, the Egyptian Trade Union Federation appointed leaders are used by the state to police their members.
Mac management also locked out the strikers, threatening an indefinite shutdown. Hundreds of workers responded by gathering outside the Manpower Ministry offices, in Cairo, and at the company headquarters, where they staged a sit-in for hours before management reversed the shutdown decision and agreed to a pay rise, although less than workers had demanded. It is reported that some workers have attempted to form an independent union.
Other strikes in the past month have included Kiriazi, Egypt's largest domestic appliance manufacturer, over pay at below the minimum wage. Security forces beat the workers and arrested 18 of them.
At al-Nasr castings, where workers began a sit-in against sacking 2,200 workers due to privatization, security forces violently went in and broke it up. Al-Wabriat Samannoud workers in Gharbia Governorate struck, protesting against cutting a monthly grant by half.
There was also a strike by taxi drivers in Port Said, who held a sit-in in front of their union office; a strike of security workers at Baltim Hospital in Kafr El-Sheikh; and the sit-in of Egyptian Styrene Production Company in Alexandria at the Dekheila Port, demanding job security and insurance.
These first few actions for several years are significant. Opposing state-approved trade union leaders, holding sit-ins and protests outside Ministry offices hark back to Mubarak's final years. Wave upon wave of strikes was then defying state-controlled unions, police intimidation, and demanding government action. This mass working class action prepared the ground for the momentous 'Arab Spring' uprising in 2011 that brought Mubarak's regime crashing down.
As part of that movement, the need to build independent trade unions was increasingly understood. Less than 100,000 workers were members of independent unions before the uprising (including 50,000 property tax collectors). Within months this grew to over two million. A key task today is to study the lessons of the pre-2011 strikes and prepare for new independent unions.
Currency crisis hits food prices
The Egyptian pound has lost half its value against the US dollar in the past year, with a 20% drop just in January – the world's worst-performing currency in 2023. In December $ 9.5 billion worth of goods were stuck at ports. Businesses could not find the dollars needed to get them released.
For a country that imports most of its food, this has been disastrous. Overall inflation was 26% in January. Food prices were 38% higher over the year to December, accelerating to 48% higher in January. Families already below, or just above, the official poverty line is in crisis. 60 percent of Egypt's 105 million population can be classified as poor or vulnerable, according to the World Bank. Basic food items are priced beyond the reach of millions. Families are cutting the amount and how often they eat. Even better-off families can't afford the meat, eggs, and other foods they have been used to buying, or 50% increases in school fees.
Most factories came to a halt during December and January as foreign currency reserves fell. In early January, two state-owned banks briefly offered 25% interest on one-year deposits. This brought a short-term boost to foreign currency and liquidity in the financial system. But if earning interest from the bank is easier than opening a factory, capitalists' investment will fall further.
Sisi has used massive infrastructure projects, including widening the Suez Canal and building a new capital city, to try to boost the economy. These have depended on foreign loans, particularly from Saudi Arabia and the Gulf states, but in January the government halted further work that required hard currency.
New privatisation programme
The armed forces own large sections of the economy and military companies were put in charge of these mega-projects. As The Economist (London) magazine put it, "Then there is the army, which runs a vast economic empire that makes everything from pasta to cement. It grabs an ever-larger chunk from private business: it is hard to compete with an entity that does not pay taxes or customs fees, enjoys preferential access to land – and can lock up its rivals." (24.1.23)
As a condition for December's $ 3 billion loan from the IMF, Sisi was forced to agree to boost the private sector. A new state-ownership policy defined areas of the economy not considered strategic, from which the state will withdraw. These include horticulture and field crops, desalination plants, river transport services, commercial insurance, and the production of electric and electronic devices, furniture, leather, and retail.
But as Callee Davis, an economist at Oxford Economics Africa, told Al-Monitor, "Although the government is planning on exiting core economic sectors, this does not necessarily mean that the private sector in a general sense will be empowered. The juiciest investment opportunities will be reserved for Gulf players, often politically connected, and certain military companies will be off-limits." (18.1.23)
Sisi is being squeezed between Egyptian capitalists, foreign investors, the IMF, and some Gulf States demanding greater access to profitable parts of the economy; the Armed Forces senior officers who want to maintain their hefty retirement incomes from directorships; and the beginnings of a working-class movement demanding it is not made to pay the price of the failing economy.
New efforts to form independent working-class organisations are needed, most likely largely underground, at this stage because of state repression. Trade unions and a political party with a socialist programme of democratic workers' control of publicly owned industries, full democratic rights, and an international appeal across the Middle East and North Africa, would transform the battle against the hardship Egyptian workers now endure.