Please Enter the following details. We will automatically send you a link to access your record. Please keep that safe to access your records any time you want.
You must click on the link you receive to add details such as Password etc.
Please visit the FAQ about Newsletter.
Please read our privacy statement.
Please Find out who we are and why you should support us.
Please set up regular support to get the full benefit (See below): Donate 
As a regular paying supporter of Socialistworld.net, we will encourage you to take part in workers activities/Protest/Marches and set up discussion groups. In order to aid towards that, we will provide all the material that you may need.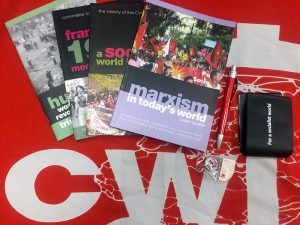 Initial Education material 
Marxism in Today's world
Socialism in the 21st Century
CWI – Socialistworld Flag 
Badges
Booklets /LEaflet Templates 
We can provide further materials according to your need. Please do not hesitate to contact us: info@socialistworld.net To require discussion please write to info@socialistworld.net.
If you like to be a member of the Committee for a workers' International, then please write to us to organize a discussion: write to tus@worldsoc.co.uk.