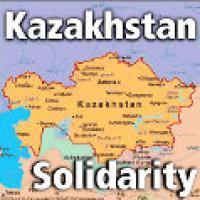 LATEST UPDATE 17:54 GMT Breaking News: Peaceful protesters & supporters of striking oil workers fired upon
Update 17:54 GMT: The Kazakh regime claims that only 10 have died during todays events however strikers claim via the CWI Russian website that they have 70 bodies and are still claiming hundreds were wounded. They are also reporting that the electricity has been turned off in Zhanaozen and that there are helicopters patrolling the skies while military forces including troops and vehicles are in the city.
In Berlin, Brussels, London, Vienna and elsewhere today there were protests at Kazakh embassies, consulates and other targets against the regime and in solidarity with the protesters and strikers. You can read reports here
Protesters at the Kazakh embassy in London
Update 13:10 GMT: CWI Kazakhstan correspondents report that The "Akimat", the local administration office building, has been completely burned down. Rallies and protests are planned for tomorrow all over the country.
Update 13:06 GMT: CWI Kazakhstan correspondents report that a young woman, 15 or 16 years of age, is among those killed by state forces. Health centres in the Aktau region are appealing for blood donations to help treat those wounded by state forces.
Update 12:35 GMT: Kazakh mass media is reporting that state forces opened fire on peaceful protesters, strikers and their supporters. CWI Kazakhstan reporters are saying that a general strike is developing across Kazakhstan.
Update: 12:13 GMT: CWI Kazakhstan reporters on the ground are saying that hundreds are rallying in support of the oil workers in Aktau. In Zhanaozen, the oil production has been completely stopped.Workers from other oil companies have gone on strike in solidarity. Workers in all of the oil companies and companies related to oil production have gone on strike.
Update 11:42 GMT: CWI Kazakhstan reporters on the ground say up to 70 workers have now been shot dead. All social media and mass media has been blocked by the Nazarbayev regime. 1500 marines have now entered Zhanaozen. People are rallying in the main square.
Today, at Kazakhstan's independence day, more than 3000 people assembled peacefully in Zhanaozen, to promote the demands of the oil workers who have been on strike since May. Police and special forces attacked the meeting and opened fire on the strikers and their families. By around 10 a.m., London time, 50 had already been killed, with at least 500 more wounded. Administrative buildings and the christmas tree in the center square have been set on fire. One of the buildings of the oil company, Uzenmunaigaz, was blown up. An information blockade has been set up, the CWI Kazakhstan website was blocked. At around 10:15 London time reports of armoured vehicles and military forces approaching from the city of Aktau.
CWI reporters currently post live updates on www.socialistworld.ru in Russian.
Please send immediate protests to the Embassies in your own country and to the Kazakhstan Foreign Ministry email: mid@mid.kz and message of support to: Otekeeva0103@mail.ru with copies to kazakhstansolidarity@gmail.com
Follow us here on Socialistworld.net for more information as it comes to hand
To see an appeal from the striking Oil Workers for protests on 16 december on click here
Socialistworld.net