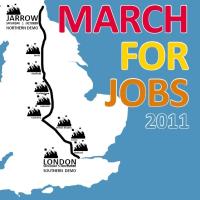 Youth Fight for Jobs and the Jarrow march
THE 2011 recreation of the Jarrow march was perfectly timed. Coming on the 75th anniversary of the original march, it occurred in between the biggest riots in recent British history, and the youth unemployment figures topping one million for the first time since 1994. The riots showed the deep-seated anger that exists towards the future this system is offering young people – but also showed a lack of an organised alternative or directed political action. More than just highlighting the problem, Youth Fight for Jobs helped to highlight an alternative. Together with Occupy London Stock Exchange and the buildup to the 30 November strikes, the Jarrow march helped to bring the ideas of struggle and anti-capitalism into daily conversation for millions in Britain.
The march received daily coverage in the mass media, including a feature on BBC television's One Show, numerous interviews on Sky News, regional and local coverage on the television, radio and press, alongside internet reporting. It has made Youth Fight for Jobs the go-to people for comment on youth unemployment, with Paul Callanan interviewed for the Sunday Mirror on 20 October and appearing on Radio 5 Live, and Ian Pattison appearing on Newsnight. Alongside Youth Fight for Jobs, it has also allowed the Socialist Party – a key backer of the campaign – to reach a greater level of prominence.
All this reaped immediate rewards for the campaign and the labour movement as a whole. In Hull, for example, sacked British Aerospace workers joined the planned protest in a 700-strong march which was a practical demonstration of workers in struggle and unemployed young people uniting in protest. Throughout the march, a number of areas saw some of the biggest meetings in recent years, laying the basis for anti-cuts and Youth Fight for Jobs groups. It allowed space for debate on the real issues on how to take the movement forwards. And it raised questions around the political role of trade unions, what alternative New Labour offers, and whether it is possible to defeat cuts and solve youth unemployment.
These questions are key. Famously, the original Jarrow 'crusade' was led by Eileen Wilkinson, Labour MP, accompanied by representatives from the parliamentary parties, including the Conservatives. This was in itself partially an attempt to undercut the more radical National Unemployed Workers Movement, in which the Communist Party of Great Britain played a leading role. Both Labour and the CP were mass workers' parties, with huge support from the trade unions. Today, there is no organised political voice of the working class or young people. This absence holds back the development of political campaigns, including those around youth unemployment. The Unite union has recently launched a community membership section for unemployed people and students: if this is seriously developed by the union leadership it could be very important.
During the course of the march, the absence of a political alternative was reaffirmed. It was a recognition of the importance of the march that several MPs came out to greet it, and we were able to take the fight to both Iain Duncan Smith, work and pensions minister, and Chris Grayling, employment minister, on Sky News and through a parliamentary debate. Sneers and smears were to be expected from the Conservative Party and its friends in the press, and the attacks by Tory MP, Robert Goodwill, were worn as a badge of honour by marchers.
In a number of areas, the Labour Party provided hospitality for the marchers, including in Durham where the council paid for accommodation and a social venue. Yet not one councillor came down to discuss with the marchers! From Jarrow to London, marchers met one councillor who was prepared to vote against all cuts, and had serious discussions with some of the Labour group in Hatfield. A number of Labour MPs attempted to repeat Ed Miliband's stance that cuts were necessary and that a programme of mass job creation was out of the question. Crucially, of the tens of thousands of young people that the march met, none were looking to join New Labour to reclaim it.
November's unemployment figures show that over a million young people are unemployed in Britain today. But these figures cover a complex variety of situations. Included are students looking for a job to help pay their living costs, carers looking for part-time work, etc. But the majority of young unemployed are periodically able to find temporary or agency work, and are in a cycle of low-paid work and unemployment. Of the one million, 560,000 have been unemployed more than six months and 89,000 more than a year. There is also a wide variation on a national level. Youth unemployment in the north was already high, and has increased significantly. But in parts of the south, unemployment has gone from being virtually non-existent to affecting large sections of the population.
Youth Fight for Jobs Jarrow March 2011 arrives in Coventry, photo by Lenny Shail
Growing up in an age where a steady job was becoming increasingly hard to find, this cycle of worklessness is something which young people are acclimatised to. Temporary Christmas jobs may well see youth unemployment figures dip below one million in the new year, and then quickly rise again. The huge increase in agency work, retail and services replacing industry, and the legacy of Thatcher's assaults on the union movement, have all served to lower young people's expectations of what a job can mean. This is especially the case in black and Asian communities where institutional racism has meant that there has always been a high percentage out of work. In May 2008, before the economic crisis, youth unemployment stood at 684,000.
This harsh reality made the opening up of university and college education all the more appealing, and still offers an alternative. But the dual blows of the axing of education maintenance allowance (EMA) and the average tuition fee now standing at £8,678 mean that the option of education will be less appealing and unemployment will rise at a quicker pace. Con-Dem government plans to increase the age of compulsory education to 19 – but, effectively, to allow young people to be forced into work from 14 – will mean fewer young unemployed but also, likely, fewer jobs available. Access to education and youth unemployment are closely tied in, and it is vital that Youth Fight for Jobs continues to link these issues.
The government has responded to this situation with a bewildering range of schemes, all small in scale compared to the number of unemployed young people. In one form or another, they centre on forcing young people to work without payment: carrying on receiving their job seekers' allowance but without travel expenses, training or a job at the end. The government is currently being challenged in the courts over one of these schemes, under a law designed to stop slavery. Because of the size of these schemes, however, they are not currently well known about or experienced. The government is clearly using the lack of a mass opposition to unemployment to establish this as the norm while it feels it has the chance. Exposés such as those carried out by Shiv Malik in The Guardian have raised awareness and seen the start of a political campaign around these brutal schemes.
There is a growing layer of young unemployed people who are highly politicised, including a significant layer of graduates who were involved in last year's student protests. The Occupy camps scattered across the country are proof of this, alongside the successes of the Jarrow march. The march was an important event and, through the media, touched hundreds of thousands, if not millions. Youth Fight for Jobs is established as an organisation fighting for young people on a national scale, and when youth unemployment becomes a mass issue it is extremely well-placed to lead that fight-back.