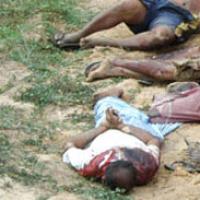 Amnesty international and the British Channel 4 television channel reveal new material documenting the unpunished slaughter and ongoing oppression of Tamil people
An Amnesty International report, 13 March 2012, revealed the ongoing arrests of hundreds of detainees in Sri Lanka. The regime continues to use "counter-terrorism" laws imposed against the Liberation Tigers of Tamil Eelam (LTTE) almost two years after their brutal defeat by government foreces in May 2009. Arbitrary detention and enforced disappearances are still on the agenda in Sri Lanka, according to this Amnesty report.
In addition, a report broadcasted on Britain's Channel 4 TV programme shows how at the end of the civil war tens of thousands of Tamil people were cornered in a tiny area in the north of Sri Lanka and then bombed by the Sri Lankan army. The second part of the 'Killing Fields' documentary by Callum McCrae shows some of this slaughter and revealed also the ongoing intervention of "British interest" in its former colony.
To read a full review by TU Senan, see Tamil Solidarity's website.