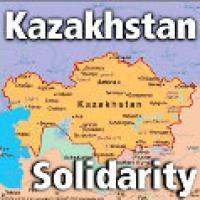 But fails to condemn Nazarbayev regime
Once again, Paul Murphy, MEP for the Socialist Party (CWI Ireland), has spoken out against the suppression of workers' and democratic rights that he has personally witnessed in Kazakhstan. He took into account the 'briefing' given by Villy Søvndal on behalf of 'High Representative', VP Ashton. It said: "Since its independence 20 years ago, it has been the European Union's policy to support Kazakhstan's economic and political progress". She had, however, felt compelled to say that the Kazakhstan government had amended a number of laws over the past few months…"that seem to empower the state more and more, while restricting the rights and freedoms of citizens, civil society and political opposition".
Paul's speeches can be seen on the European Parliament's website:
14 March 2012 (choose your language in your player): mp4 | wmv
15 March 2012 (choose your language in your player): mp4 | wmv
Before the vote today, the left grouping in the Euro-parliament, GUE issued the press statement below.
GUE/NGL Press: EU-Kazakhstan partnership talks must be suspended over human rights regression
Strasbourg 14/03/2012
"Fine words on human rights are not being matched by actions, particularly when it comes to vested economic interests" Irish GUE/NGL MEP Paul Murphy told MEPs today in a debate on Kazakhstan.
"The brutal crackdown by Kazakh state forces in Zhanaozen which left at least 17 dead did not prevent the German government from signing a lucrative trade deal to buy rare earths in February" he said, demanding that High Representative Ashton suspend talks on a new Partnership and Cooperation Agreement until there is meaningful change and all political prisoners unconditionally released.
"All trumped up charges and investigations against the 43 strikers and their supporters awaiting trial, and the leaders of the political opposition must be dropped. It is those who gave the order to shoot down peaceful demonstrators who should be in the dock not the protestors themselves" he said calling for an independent, international inquiry into the violence and announcing his intention to travel to Zhanaozen – if granted a visa – as part of a delegation of trade unionists, journalists and human rights defenders.
"The crackdown on workers' rights is continuing and going even further. For example, February's amendments to the labour code allows the dismissals of workers involved in strike action, makes it easier to dismiss trade union representatives during strike negotiations, and legalizes "lock outs".
GUE/NGL Press Contacts:
David Lundy +32 485 50 58 12
Gay Kavanagh +32 473 84 23 20
david.lundy@europarl.europa.eu
gabrielle.kavanagh@europarl.europa.eu
European United Left / Nordic Green Left
European Parliamentary Group
All those concerned about the struggle of organised workers and protesters in Kazakhstan should take note of the recent developments reported, and see what they can do to give assistance.
Resolutions from union branches and conferences backing the struggle against the Nazarbayev regime will also give an enormous boost to the struggle to build independent fighting forces in the country. Fore more detail, see campaignkazakhstan.org