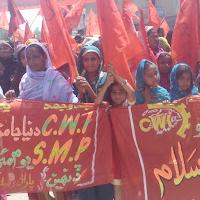 Fotos of impressive march
A May Day rally organized by Socialist Movement Pakistan (CWI Pakistan) and others including trade unions of Mirpur Khas in Sindh started from the office of the Progressive Workers Federation and marched through the city.
Especially impressive was the female workers contingent in the demonstration.
When the demonstration reached the press club in Mirpur Khas speeches were followed by revolutionary chants and songs.