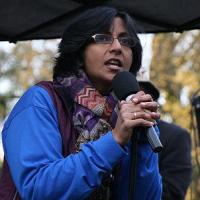 Kshama Sawant groundbreaking campaign
The Kshama Sawant campaign will formally announce at a press conference Tuesday August 21 that they are switching races in the 43rd Legislative District. Sawant, a Socialist Alternative candidate, will challenge Democratic House Speaker Frank Chopp in the general election.
This announcement comes in the wake of the unprecedented primary election results that have Sawant winning second place in both Positions 1 and 2 of the district. Sawant received over 9% against Democratic incumbent Jamie Pedersen in Position 1, and over 11% of the votes, as a write-in, in Position 2 against Chopp. Washington State law allows a candidate to switch positions in the same House District if they win second place both races.
"This result represents a real shot across the bow to the out-of-touch, arrogant Democrats that a Socialist with few resources was able to get such a vote in both races in the 43rd. This is not accidental. Working people are sick and tired of the relentless corporate agenda that Olympia is carrying through," Sawant's Political Director, Philip Locker, said.
Initially intending to run against Frank Chopp, the Sawant campaign decided to file instead against Jamie Pedersen, who was running unopposed, when they learned another anti-budget cuts, independent candidate was challenging Chopp. "We want this campaign to challenge the big-business politics of the Democratic Party, which both Chopp and Pedersen represent. And we generally support left-wing, independent candidates who oppose the budget cuts to social services, so we decided to run against Pedersen," explained Sawant. Unfortunately, the other independent candidate dropped out of the race before the primaries, leaving Chopp virtually unchallenged.
From May to August, the Sawant campaign worked to expose the Democratic Party's anti-worker agenda, gaining endorsements from the Amalgamated Transit Union Local 587, Cindy Sheehan (leading anti-war activist and 2012 Vice Presidential candidate), and Pastor Rich Lang of the University Temple United Methodist Church. Seattle's mass circulation weekly newspaper, The Stranger, then endorsed Kshama Sawant as a write-in against Chopp.
"We welcomed the opportunity to campaign in both positions because, for us, this is about building a movement to stop the budget cuts, to show voters that the Democratic Party as a whole is culpable for the policies that have seen the state budget decimated in recent years. Chopp and Pedersen have virtually identical voting records. Now that our campaign has won more votes as a write-in against Chopp, we have decided we can have a bigger impact by challenging the House Speaker. As the second most powerful person in Olympia, Chopp is the architect of these attacks on working people and we look forward to debating him on these issues," said Sawant.
How You Can Support our Campaign:
1) Like our Facebook page www.facebook.com/VoteSawant
2) Donate on-line at www.VoteSawant.org
[Note: under US election law, only US citizens or those with US "green cards" can donate to a political candidate]
Unlike our opponent and other Democratic and Republican candidates, we are not financed by big business and the 1%. Our campaign relies on funding from ordinary workers, young people, and activists. To mount a serious challenge to our corporate-backed opponent, we need to raise $25,000. While we have already raised $10,000, Frank Chopp has already raised $118,000 in corporate cash.
We now have a major opportunity to put a real scare into Frank Chopp and stir up a debate on the need to break from the Democratic Party throughout Washington. But we can only do it with YOUR support. Please donate as much as you can, but even small contributions allow us to purchase signs, campaign materials, mailings, and to organize events.
3) Contact the Washington Secretary of State Sam Reed to demand he allows us to state our party preference (Socialist Alternative) on the general election ballot
Please contact Sec. of State Sam Reed and tell him that he should allow our party preference to appear on the ballot! As of now they are stating that changing races will mean we can't have a party preference on the ballot, even though voters were fully aware of our party when they wrote us in! (for background details see: http://slog.thestranger.com/slog/archives/2012/08/20/write-in-right-on-3415-voters-correctly-spell-kshama-sawants-name
Email: mail@sos.wa.gov
Telephone (360) 902-4151
Twitter – @secstatewa
4) Volunteer
We are running a 100% grassroots, working-class campaign. We rely on ordinary people contributing their time and energy to build our campaign. We need you to get involved! There are many things that we need help with, so you can definitely pick a task that works for you! Sign up at www.VoteSawant.org
5) Endorse our candidate
Invite the candidate and/or a campaign representative to talk with your organization about endorsing. Please also contact us if you want to personally endorse as an individual. Include exactly how you want to be listed, for example, as "John Gallup, Amalgamated Transit Union Local 587 member."
6) Get organized – Join Socialist Alternative!
We have weekly activist meetings, events, and education programs to help understand the key lessons of past movements, revolutions, and how to change society.
For more information or to get involved in the Sawant campaign and/or Socialist Alternative:
(206) 486-0099
VoteSawant@gmail.com
Paid for by Vote Sawant / P.O. Box 85862, Seattle, WA 98145. Candidate party preference: Socialist Altern.