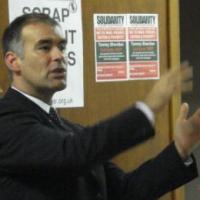 Yet another ex-News of the World (NoW) journalist has been charged with having committed perjury during the 2010 trial of Scottish socialist Tommy Sheridan.
Douglas Wight, who was the Scotland news editor when the NoW ran stories about Tommy's private life in 2004, has also been charged with multiple counts of conspiracy to obtain personal data from members of the public.
Wight continued to work for the NoW until it was forced to close in July 2011, following the public outrage that came in the wake of the Milly Dowler scandal.
Andy Coulson, the former editor of the NoW and former employee of the prime minister, and Wight gave evidence that subsequently has been proved to be false.
As Labour MP Tom Watson commented: "It is now abundantly clear that members of the jury were not in full possession of the facts.
If they knew what the police now know, it seems impossible not to conclude that Mr Sheridan would be a free man. His conviction should be urgently reviewed."
Both Wight and Coulson, have now been charged with perjury in Scotland for claiming during the Tommy Sheridan perjury case that they knew nothing about the widespread phone hacking that was endemic at the NoW.
Coulson has also been charged in England along with five other former NoW journalists and private detective Glenn Mulcaire, on phone hacking charges.
According to the Crown Prosecution Service at least 600 people were victims of voicemail hacking by NoW employees.
"Industrial scale"
The "industrial scale" of illegal phone hacking emerged after the police and the prosecuting authorities effectively covered up the chronic levels of criminality by News International, the Murdoch parent company of NoW.
On top of this, 14 current or former Sun journalists have also been arrested as part of the Met police's investigation into "inappropriate" payments to police and public officials by News International journalists.
The Met, who have seen a commissioner and deputy commissioner forced to resign as a result of the scandal, are under huge public pressure to be seen to act.
The Tommy Sheridan perjury conviction hinged on the unprecedented decision by the Scottish Crown to pursue an inquiry following Tommy's 2006 defamation victory over the NoW.
Lothian and Borders police carried out that inquiry and millions was spent trying to secure a politically-driven conviction of Tommy who was a key leader of the mass anti-poll tax movement that ended the career of the 'Iron Lady' Margaret Thatcher in the early 1990s.
The conviction against Tommy Sheridan is indeed unsafe and unsound and should be overturned. A full trade union-led public investigation should also be carried out into this political vendetta against one of Scotland's leading socialists.