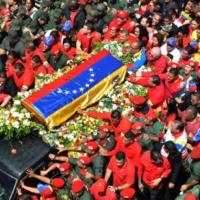 "Bourgeois, make no mistake – here are a revolutionary people!"
Yesterday, in Caracas, more than one million people poured out from the working class barrios and poor districts onto the streets as Hugo Chavez's coffin was taken through the city. In stark contrast, an eerie silence was observed in the rich areas of the capital.
Many Chavez supporters wore red T-shirts. There was an inevitable outpouring of emotion and feeling of loss. But the massive crowds were also defiant and combative and made clear they would continue the struggle. They chanted, "Chavez is all of us, the revolution continues!", "Bourgeois make no mistake – here there is a revolutionary people!" and "Now, more than ever, revolution and socialism!"
The masses are warning the ruling class and the Right that the death of Chavez is not the end of the struggle. Unfortunately, the militant demands of the protestors were not echoed by the government. It limited itself to calling for "unity" to "defend the fatherland" and appeals for peace and calm.
Socialistworld.net will publish more analysis on these events and the prospects for a new phase of the struggle in Venezuela in the aftermath of the death of Chavez.