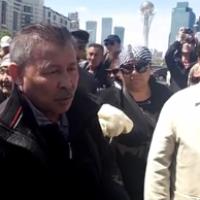 MEP demands immediate release of Housing Campaigners – solidarity still needed
Campaign Kazakhstan reports:
"After yesterday's arrests in Astana (see report) Esenbek Ukteshbayev has been sentenced to 10 days imprisonment and his partner, Baxut released with a fine of $130 to pay. One of the other campaigners has been sentenced to seven days in prison. Today, the independent journalist, Berig Zhakiparov was also arrested and detained by the police.
Please send protests to your local embassies."
See also: letter sent by Paul Murphy MEP, Socialist Party (CWI Ireland).