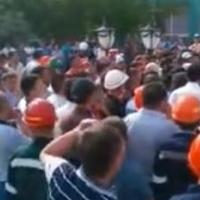 Workers demand nationalisation of KazakhMys metal foundry
Campaign Kazakhstan reports: "On the morning of 24June, hundreds of angry Zhezkazgan residents gathered outside the metal foundry of London-based company KazakMys. They feared for the future of their town on hearing that the corporation had decided to 'place the plant in conservation'."
To read the full article, see a video and find details on a call for solidarity, please follow this link.