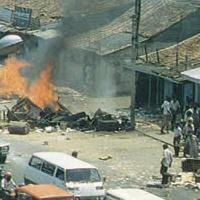 Anti-Tamil pogroms organised by ruling class
This month marks the anniversary of the 1983 'Black July' anti-Tamil pogroms in Sri Lanka organised by the United National Party (UNP) government of president JR Jayewardene.
Up to 3,000 people were killed in a single day. Thousands of homes were damaged and destroyed as were many workplaces. Over 150,000 people lost their jobs and over 100,000 made refugees.
The pogroms followed the UNP's brutal suppression of the 1980 general strike – a key turning point in Sri Lanka's modern history. A deeply unpopular government unleashed Sinhala nationalism to undermine any resistance to its neoliberal policies.
The defeat of the strike, which weakened the trade union and workers' movements, meant that the government now had no opposition.
The 1983 pogrom was not however an ethnic riot where Sinhala masses spontaneously attacked Tamil minorities. It was an attack organised by the capitalist ruling class. The killings also ensured that the Tamil armed struggle got massive support from Tamils.
May 2009 massacres
An ensuing civil war culminated in May 2009 when the Sinhala chauvinist regime of President Mahinda Rajapaksa brutally crushed the LTTE (Tamil Tigers) separatists. An estimated 40,000 plus Tamils were massacred in the closing stages of the war and the Tamil-speaking areas of Sri Lanka are now under military occupation by government forces.
There have also been assassinations of government opponents and attacks on democratic rights aimed at stopping any resistance. None of this has deterred David Cameron who plans to attend the Commonwealth heads of government meeting there in the autumn, lending legitimacy to this murderous regime.
Nonetheless there is growing anger of working class and oppressed people at the regime's policies, including a one-day general strike on 21 May 2013 organised by trade unions against a huge hike in electricity tariffs. In fact the 21 May strike, although not a complete success, was the first national strike since 1980. It represents the beginning of a new era for the Sri Lankan working class.
For further reading on 'Black July' and campaigns see www.tamilsolidarity.org