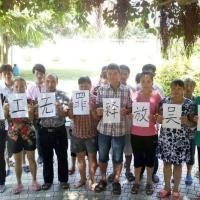 Shenzhen factory workers' representative held by police for five months
On Wednesday 23 October, Wu Guijun, a migrant worker in Shenzhen, will have been held in police detention for five months. Wu has only very recently been formally charged. For months he was denied contact with his lawyer. Wu's real 'crime' was to be elected along with several other workers to represent the workforce at the Diweixin Product Factory in Shenzhen, a huge city in southern China's Guangdong province, in negotiations with management over severance terms following the company's decision to relocate to Huizhou.
International protests will take place on 23 October in several cities around the world to call for Wu's release and protest the criminalisation of workers' struggle which this case highlights. From Colombo and Calcutta to Hong Kong and Berlin, socialists and labour activists are planning to take this case to the Chinese authorities, local media and trade union bodies. To date, activities are planned on this date by the CWI sections in Australia, Brazil, Germany, India, Ireland, Sri Lanka and Sweden, as well as Chinese comrades. This initiative from chinaworker.info is intended to increase pressure on the Shenzhen authorities to release Wu and cease the persecution of workers exercising their basic rights to strike, organise and demonstrate.
In early May this year, around 300 workers at the Diweixin Product Factory in Shenzhen's Baoan district, which manufactures household products, took strike action in protest at the management's refusal to follow the terms of China's revised Labour Contract Law in respect of its decision to close down the Shenzhen plant. The law states that workers should receive compensation at the rate of one month's salary for every completed year of service. The Hong Kong-owned company is in breach of this law.
Mass arrests
Frustrated over management intransigence, the Diweixin workers decided to march to the district government offices on 23 May, to petition officials to step into the conflict and enforce the law. But instead, police carried out mass arrests at this demonstration, later releasing most of the workers. The police seem to have decided to make an example of Wu Guijun to deter other workers from waging similar protests that are deemed a threat to "stability". The police crackdown was a cruel blow to the Diweixin workers' struggle, and most workers subsequently accepted the management's very low offer of just 400 yuan for each year of service (far below the legally stipulated level).
Workers across China, especially in the coastal provinces, are facing similar difficulties with a wave of factory closures and relocations, disputes over wage arrears and severance pay, and several cases of bosses absconding without paying wages and other entitlements. The case of Wu Guijun is therefore a test case for workers' rights in China and the growing trend of local authorities criminalising protest. It is also significant that this happening in Guangdong province – previously regarded as more tolerant of public protests than other provinces in China. In another case, as reported on chinaworker.info, a dozen security guards at a major hospital in Guangzhou, capital of Guangdong province, were arrested during a protest in August and may face similar criminal charges. Not surprisingly, these cases are attracting growing attention from the international trade union movement (which unfortunately has until now not done enough to organise solidarity for super-exploited Chinese workers). Several trade unions and their international coordinating bodies are circulating petitions demanding Wu's release, as in this example initiated by the International Union of Food, Agricultural, Hotel, Restaurant, Catering, Tobacco and Allied Workers' Associations (IUF).
A five-year jail sentence?
According to the personal blog of Wu's lawyer, the public security bureau transferred the case to the prosecutor's office in September. Formal charges have finally been filed against Wu Guijun for "gathering a crowd" and "causing a traffic disturbance", which could lead to a jail term of up to five years. Wu is 40 years old and supports two children and his elderly parents. His arrest and possible imprisonment will cause severe hardship for his family. His wife, also a migrant worker in Shenzhen, is now the sole income earner on a typical migrant worker's monthly salary of 2,000 yuan. Despite these hardships, through his lawyer Wu declared: "If I must go to jail for standing up for the rights of my fellow workers, I am ready to take this responsibility".
The Diweixin company, headquartered in Kwun Tong, Hong Kong, has adopted brutal tactics against its Shenzhen workforce throughout the course of this dispute. While refusing to increase their offer of compensation, management insisted on filming negotiations with the workers' representatives. This was clearly aimed at intimidating workers, with some success. Several of the workers' representatives withdrew in fear of reprisals, but not Wu himself. The workers' movement in China is filled with such examples of everyday courage. The same cannot be said of the official government-run trade union, ACFTU, which has so far not uttered a word on this case. This is despite a petition from Diweixin workers to the Shenzhen office of the ACFTU asking them to take up the case. The first such letter was presented in September after Wu had been in detention for 100 days. Another petition letter, this one signed by several hundred workers and their supporters, was given to the ACFTU officials this week.
To sign chinaworker.info's protest letter to Chinese authorities follow this link.
To participate in the international protest day on 23 October, check activities for your local area or let us know about your plans – see our facebook page.
Free Wu Guijun!
Stop the criminalisation of workers' struggle in China!
For the right to strike and independent trade unions!
Solidarity with workers in China!