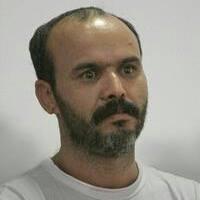 Urgent solidarity needed
[Abdeslam Hidouri was released shortly after his arrest – many thanks to all who sent messages of solidarity – editors]
Following their participation in the demonstrations that took place on the day of the murder of Mohamed Brahmi in late July, Abdeslam Hidouri , a revolutionary activist and well known trade union leader from the town of Menzel Bouziane (in the governorate of Sidi Bouzid) and Ferid Slimani, a local youth, were arrested yesterday, Wednesday 25 December. They are accused of having damaged public property and of burning the local building of the National Guard, which had taken place following the degeneration of a peaceful demonstration after the brutal intervention of State forces.
The only evidence to support this totally arbitrary arrest is nothing but a few seconds of video showing the two activists participating in the demo in question. The Tunisian judiciary system is once again attacking agitators of the revolution, in order to silence the anger brewing up in the country in this period of winter, traditionally conducive to social unrest in Tunisia. A few days ago, another left activist, Abdelhak Laabidi, had been physically assaulted in Beja by militias of the Islamist Ennahda party, which seems to illustrate a strategy of intimidation towards popular and emblematic figures of the revolution.
The CWI and its activists in Tunisia strongly condemn these arrests, and more generally, the policy of systematic harassment and repression against Tunisian activists and opponents. We demand the immediate and unconditional release of Abdeslam and Ferid.
An appeal has been launched for a rally this morning, Thursday, before the trial court of Sidi Bouzid, where they are called upon to appear before the public prosecutor.
Send your letters of protest at the arrest and harassment of these activists to the Tunisian Ministry of Justice on this address: mju@ministeres.tn, with a copy to cwi@worldsoc.co.uk.
– Immediate release of Abdeslam Slimani Hidouri and Ferid Slimani, and of all political prisoners!
– No to arbitrary arrests and political trials!
– Defence of all democratic rights!
– No to a new dictatorship!
– For the continuation of the Tunisian revolution – power to the workers and youth!