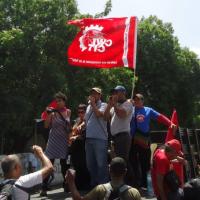 Photo report of march
ON 29 June, hundreds of workers marched ni Barquisimetro, Lara state, in Venezuela, to unite and give visibility to the important workers' struggles taking place in the area. Socialismo Revolucionario (CWI in Venezuela) memebrs played an important role in organising and bulding for the march. A report in Spanish can be read here.
Special financial appeal to all readers of socialistworld.net

Support building alternative socialist media

---

Socialistworld.net provides a unique analysis and perspective of world events. Socialistworld.net also plays a crucial role in building the struggle for socialism across all continents. Capitalism has failed! Assist us to build the fight-back and prepare for the stormy period of class struggles ahead. Please make a donation to help us reach more readers and to widen our socialist campaigning work across the world.

Donate via Paypal

CWI- Please inform us if you are reproducing any material from this site.