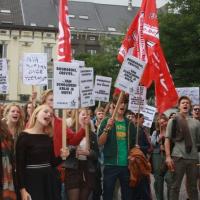 Anger against austerity growing
Last Wednesday, 80 school students, from 10 different schools in the Flemish city of Ghent, came out to protest against impending education cuts. It was the first protest since the newly elected Flemish government, led by Geert Bourgeois (from the right-wing, Flemish nationalist party, NVA) and the new education minister, Hilde Crevits (CD&V, the Flemish Christian democrats) found their plans for a new round of education cuts leaked. The protest serves as an excellent preparation for the building of a mass movement of youth against cuts, which will have a serious impact on their future.
Previous governments have already imposed massive cuts to education, leading to ever more pressure on teachers, increased costs and students being taught in cheap container classrooms and so on. The new government, however, wants to take yet another big bite out of the budget. Without official figures having been released, the media reported a figure of €800 million worth of new austerity measures, including big cuts to assistance to children with special needs in secondary schools and an almost doubling of student fees. The increase of fees to €900, as a first step to raising them even further, sparked outrage. The same parties that make up the Flemish government also agreed at a federal level to invest €6 billion to buy new F35 fighter jets.
Students are furious that their future is sacrificed while money is wasted on tools of war. One student said: "They have money for 40 F35's, but not for our future. That's absurd. They're cutting education to be able to wage war!" One of the slogans shouted on the demonstration last week was, "Bourgeois, Crevits, you won't get a dime from us!"
Students discuss how to build the movement
After the protest outside the university management building, the school students marched in the student area and had held a general assembly in a square. The meeting discussed demands and tactics to help build a movement. The Active Left Students (the youth organization of the PSL-LSP) put forward the idea of setting up a Ghent school students' action committee against fees and education cuts and to start building committees in the schools. This idea was enthusiastically accepted and a new meeting was set. Over the next couple of weeks, students will organize in their schools, including using a petition to try to make their school into a 'schools against education cuts'. This can be a first step in building a broad movement.
The assembly also discussed the need to unite staff, teachers and students in a mass movement against all education cuts, the need to invest in education and the old demand of 7% of the GDP for education (the level of the budget which was invested in education before harsh cuts from the beginning of the 1980s). Students spoke about how young people are faced with cuts and austerity in many different aspects of their life. One student said, "In our youth organization we now also have to pay more. Everything that is important to us gets more and more expensive." The idea to oppose all cuts was broadly supported.
Holding the students' protest was a very important first step in building a movement to fight austerity. Since the elections on 25 May, the regional and national governments have been on the offensive, posing massive attacks against the working class and youth. Resentment and anger at the cuts is becoming more widespread. The willingness of many workers to fight the government is increasing. The trade union leadership, under pressure from below, has been forced to call a national protest on 23 September. Under these conditions, a mass and combative movement of young people against fees and education cuts could rapidly grow. Such a movement would get support from the workers' movement and could help spark a movement against all austerity.
Click here for more photos and a video of the action.