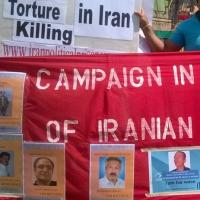 Protest against Iranian government's brutal sentences!
A court in the Bandar Imam-Khomeini, a small port city on the Persian Gulf, has sentenced four workers from the Razi petrochemicals plant to six months in prison and fifty lashes. The workers, who represented fellow workers during strikes and protests last year, were found guilty of disturbing public order and conduct of the strike by the judiciary.
This is not the first time that the Iranian judiciary has condemned workers to be brutally punished by flogging. In 2007 nine members of the Free Trade Union of Workers of Iran and two workers from Sanandaj city were sentenced to lashes, but due to protests by labour organisations in Iran and international the sentences were cancelled, except for one worker.
These warrants and the arrest and convictions of representatives of labour and worker activists are part of a systematic policy of President Rouhani who is trying to change the limited existing rules of employment in Iran, thereby ensuring the economic security and the profitability of capital.
Intolerable social and economic pressures
During the past few months intolerable social and economic pressures on the Iranian workers has caused movement in different areas with industry-wide strikes protesting against privatization, low amounts of wages and job insecurity. In contrast, the government and the judiciary of the Islamic regime are trying to suppress these protests with arrests and inhuman sentencing against workers. Miners have been arrested in Yazd and Bafg; there have been arrests and dismissals of workers at the Esfehan Polyacryl Factory and board members of the Free Union of Iranian Workers. Further examples of this policy have resulted in metal workers have been fired along with the sacking of dozens of activists and labour representatives over the past few months.
We call upon of all organisations and labour activists to protest against Iranian government's brutal and barbarian flogging sentences, and support the workers' representatives of Razi Petrochemical Plant.
Please send protests to:
Iranian Ministry of Foreign Affairs: info@mfa.gov.ir
Iranian Ministry for Cooperatives, Labour and social welfare: infopack@mcls.gov.ir