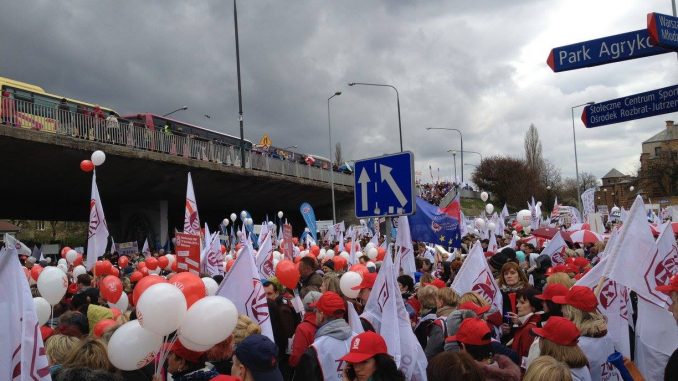 Plan of action for a general strike needed
On the 18 April a mass protest called by the OPZZ trade union federation took place on the streets of Warsaw. Workers from all sectors rallied against the governments' neo-liberal policies and demanded implementation of a pro-worker polices regarding labor contracts, salaries, pensions and taxes etc.
The OPZZ (All-Poland Alliance of Trade Unions) is the second biggest federation in the country, representing about half a million members, with a leadership traditionally leaning towards the social democracy. It was OPZZ's first independent national mobilization in years. Given that the union leadership's goal was to bring 50,000 onto the streets, the actual turnout of an estimated 65,000 seems to be a success for OPZZ president, Jan Guz, and a show of strength for the union's membership.
Workers blocked the capital for hours. Four marches started in different parts of the city, to meet at the end in front of the Prime Minister's office. Significantly strong mobilization came from the teachers' union. Over 20,000 teachers came from all over the country, including small towns and remote regions. There was also a strong presence of miners, energy workers, fire-fighters, steel and metal workers and many others.
Their general demands were for an increase of the minim wage (and the introduction of an hourly minimal wage), fighting precarious job contracts, lowering taxes for the poor, lowering the retirement age. Workers in many sectors came with specific demands, mostly linked to worsening work conditions. For example, the rail workers protested against privatization of the railway; teachers, fire-fighters and other civil servants demanded an end to pay freezes and public sector workers generally underlined their opposition to cuts, privatization and outsourcing. The focus of many private and public sector workers, especially young workers, was the massive scale of temporary and precarious job contracts ("trash contracts").
However, it was not the biggest workers' demonstration in recent years. In 2013, the three main trade unions (Solidarność, OPZZ and Forum) brought out 200,000 onto the streets to protest the government's policies. Unfortunately, there was no follow-up to the mass protest of 2013. A strategy leading to a general strike (a call that had crushing support from workers in unions, at the time) was never implemented. So brutal attacks against the working class were not stopped and the workers' movement was put into a lull that lasted until the spontaneous strikes of coal miners in early 2015.
Which path?
The 18 April demonstration, unfortunately, seems to have followed the same path. There is no plan of action proposed by the national union leadership, even if they used some radical phrases during their speeches in April (declaring that dialogue with the government is "a delusion"). In some work sectors, however, the unbearable situation with conditions and wages etc., pushes regional or sector trade union organizations into making more concrete declarations. For example, teachers, nurses, postal workers and rail workers declare their willingness to prepare strikes in their respective sectors, if their demands are not met by September. Just two days before the mass demonstration, steelworkers in the ArcelorMittal plant, in Kraków, organized a mass rally against potential closure of the last blast furnace and during their speeches desperately called for more radical forms of struggle.
Nearly all sectors of the economy see workers fed up as their hardships worsen. Radicalization has increased amongst workers – it's time now to bring them together in coordinated action. We need a strategy to organize strikes and demonstrations in all sectors and regions, leading to a country wide general strike. Such struggles must be organized by the membership of the trade unions. Despite a drive, in recent years, towards a greater unity amongst historically divided trade union organizations– like common programmes – there are signs of renewed inter-union rivalry (like Solidarność's sectarian refusal of common action with the OPZZ and their teacher's members' dispute with the bosses). Unity of workers must be unity in struggle – not just the joint signing of manifestos.
Alternatywa Socjalistyczna (CWI Poland) members took part in the April demonstration, putting forward slogans demanding a strategy leading to a general strike. We say that workers must push the issue of a general strike in the unions and demand the leaders take action or, failing this, organize their own actions to save workplaces and to win back pensions and workers' rights they've lost in recent years. We also say that immediate unions' demands, while being potentially extremely popular amongst the masses, must be linked to a broader programme of nationalization, under workers' control and management, and for the socialist democratic planning of the economy.