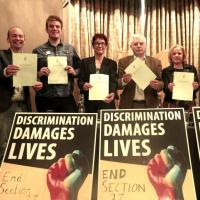 Bill would end the right of religiously run schools, hospitals and other workplaces to discriminate against LGBTQ workers
On 22 May the referendum on Marriage Equality in Ireland was passed by a 62% Yes vote. Young people, LGBTQ people, women and working class communities voted in overwhelming numbers to support the right of LGBTQ couples to marry if they wish. On 17 June the Dáil (Irish House of Representatives) voted for a Bill proposed by the Socialist Party & Anti-Austerity Alliance for Employment Equality.
Our Bill would end the right of religiously run schools, hospitals and other workplaces to discriminate against workers, or prospective workers, on the grounds of maintaining their 'religious ethos'. In the south of Ireland, 96% of primary schools and 52% of secondary schools are run by the Christian Churches and other religious organisations.
The position of a religious ethos in schools causes LGBTQ teachers to be silent and creates a 'chilling effect' on LGBTQ issues being raised in schools. Teachers are at risk of losing their employment or having their future career prospects damaged if they are open about being LGBTQ or if they wish to strongly tackle anti-gay bullying.
There is now a major anomaly in that, teachers could get married to their same-sex partners but be afraid to tell their work colleagues for fear of negative consequences. There has been years of campaign work by the LGBTQ groups in the teachers' unions and they've highlighted many examples of teachers being called in for "a chat" with the school principal on a Monday morning after being spotted at the weekend with their partners or attending particular bars and then subsequently being shunned.
The law in Ireland has not resulted in any LGBTQ or atheist teacher being sacked, but there are countless examples of gay teachers being passed over for work responsibilities and promotion. In 1982 Eileen Flynn was a teacher who lost her job for being in a relationship with a separated man (divorce did not exist at the time) and becoming pregnant. She lost her appeal to her dismissal and the law was upheld.
The government did not vote for the Bill as they support the proposal from the Socialist Party and Anti-Austerity Alliance. Afterall, they voted against a far weaker Bill on this issue in the Senate 3 years ago. The difference now is the movement of people demanding full equality. They cannot be seen to oppose a Bill which the vast majority of working class people support. Since the referendum the Labour/Fine Gael coalition has retreated on transgender rights and will allow trans people to self-determine their gender – only weeks ago they argued for medical opinions and that trans people divorce if married.
Even though the Employment Equality Bill was passed by the Dáil it does not mean it will become law. The government will now hold up the Bill in committees. Instead, they will progress their own legislation, which will allow discrimination on the grounds of religion to continue, where justified, but make other forms of discrimination harder. The AAA TDs and LGBTQ activists will be working to maximise pressure to ensure that a minimal approach is not taken and that the laws which allow discrimination against LGBTQ people, atheists and those of minority faith are deleted.
The need to separate church and state is now very pressing as life in Ireland is far more diverse and secular than in the past and the authority of the churches are greatly undermined. It is important that those who fought for Marriage Equality now demand that Employment Equality is delivered without delay and is not weaker than our Bill, and that there is a full separation of church and state including a properly funded and publicly run education system and health service.