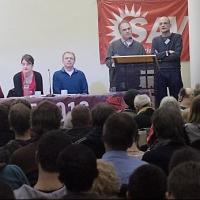 An expression of the recent advances and growing support for the SAV
"These were socialism days, wow! We are travelling back home full of energy and ideas. How do we build a successful fight back? We did not only get inspiration from the workers at the hospital Charité in Berlin, from the US, England, and Ireland, but also even from Turkey, where Erdogan is ruling with blood on his hands."
These were the words of Alexander Keim, a taxi driver and member of the SAV (CWI in Germany) in Frankfurt, in which he summarised his impressions of the 'Socialism Days 2016' held in Berlin over the Easter weekend.
Against a background of growing polarisation and unease in Germany this "congress against war, racism and capitalism" with 420 participants from eleven countries surpassed all expectations. Ten visitors joined the SAV during the weekend and one joined the Austrian SLP (CWI in Austria). Many more said they are interested in discussing further and working together with the SAV. Some more people have decided to join since the event.
There were thirty commissions and three rallies, plus activities like a graffiti workshop, demo training or how to rap. Experiences from activities in Die LINKE (Left Party), in its youth organisation Linksjugend ['solid], in the trade unions, the anti-racist movement and the fight back against capitalism were exchanged. Speakers included – alongside many members of the SAV – the deputy chairperson of LINKE, Tobias Pflüger, and other guests from the public and service sector trade union, ver.di, and from social movements.
Theodor Bergmann, who joined the communist movement in 1927, was critical of Stalin from 1928 onwards and a longstanding anti-fascist fighter, was one of the guest speakers. He had celebrated his 100th birthday two weeks before the event, and received a standing ovation for his speech in which he appealed to link the struggle against racism and fascism with the struggle against capitalism.
Jana Rauscheid from the Charité university teaching hospital in Berlin, where workers were on strike for eleven days last summer in demand for more personnel, rocked the packed hall in the first rally.
Theodor Bergmann
Darletta Scruggs from Socialist Alternative in the USA and Peter Taaffe from the Committee for a Workers' International spoke on the significance of Bernie Sanders' election campaign, which brings a new openness to socialist ideas to the fore. Laura Fitzgerald from Ireland reported about the social struggles and recent election victories for the Left there. Andreas Payiatsos from Xekinima, (CWI in Greece), explained the extent of last year's capitulation to capitalism by Tsipras and Syriza, the failure of reformism to fight austerity and the need for a revolutionary socialist alternative in Greece and internationally. A special collection saw 2,000 euros were collected for Xekinima and the CWI's Turkish group, Socyalist Alternatif.
In the final rally Sarah Moayeri, SAV member and Linksjugend ['solid] activist stated: "We shall not accept that fascists, racists, right wing populists and a government that plays with fire should threaten our future. We shall not accept racist attacks. We can fight for a world without racism, sexism and capitalism and achieve this, when we unite, organise and rise together. Racism is not in the interest of German workers, sexism is not in the interest of men. Rents will not be lower, if refugees do not come in. Wages will not be higher, when migrants are excluded from society. What unites us is the struggle for our common interests: that we take what is ours into our hands – the wealth in society."
The success of these "Socialism Days" was an expression of the recent advances and growing support for the SAV. This was especially seen in the way in which newer and younger members put their own stamp on this inspiring event.