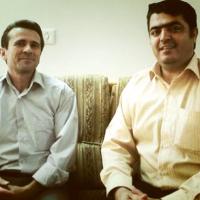 Statement by Jafar Azimzadeh, a leader of the Free Union of Iranian Workers, and Esmail Abdi, a leader of the Iranian Teachers Trade Association
Here we publich a statement by Jafar Azimzadeh, a leader of the Free Union of Iranian Workers, and Esmail Abdi, a leader of the Iranian Teachers Trade Association. In June 2015 Abdi was held while attempting to travel to attend the World Congress of Education International, a body that links together education unions in 171 countries. He is now serving a 10-year sentence on the charges of "organising and participating in illegal gatherings" and "propaganda against the system." Azimzadeh was arrested in the course of his trade union activity and sentenced to six years' imprisonment — with a further two-year ban on all political and media activity.
Nowadays, it should be obvious to any fair minded and decent individual in Iran, that millions of workers, teachers and other hard working people are faced with back breaking financial situations and have been continuously deprived of their most basic human rights.
These conditions include below poverty line wages and salaries, late payment of their earnings, the absence of job security, with temporary contracts and unconditionally accepting the employer's terms of employment. A significant number of highly educated teachers are forced to accept teaching contracts, according to which, they are paid on hourly basis, or on conditional terms, with no employment insurance, at way below poverty line salaries. Meanwhile, the number of private schools are on the rise and public education for all is vanishing gradually. Social security coffers are being pillaged by the authorities and workers' independent unions are continually under attack. At the same time, subsidies on basic goods such as bread, water, gas, dairy products, etc. have been removed. These are just a short list of the injustices that working people and teachers are facing today.
Workers and teachers, who make up a significant proportion of the Iranian population, are under such pressure that even working 12 to 18 hour shifts does not suffice to bring food to their tables, therefore they are forced to work second and third jobs to keep a mere subsistence level lives.
The government's responses to this situation have been increasing suppression of working class and teachers' protests and further pillaging of what is rightfully theirs.
Such policies have led to an official circular on the prohibition of strikes sent by the judiciary to many institutions with high concentrations of workers after the government of president Rohani took office. The continuation of this suppression of any type of dissent has spread to even peaceful gatherings of workers demanding their most basic rights in the work place, which has led to the incarceration of many of us workers in the prison system of the country.
They have accused us of being complicit in attempts at endangering the national security of the country, for which we have been sentenced to long prison terms and are presently serving those sentences in various Iranian prisons. We, like thousands of other protesting workers and teachers have done nothing but defend what is rightfully ours and our activities have all been totally transparent and have all taken place in unions and other independent workers' organizations.
Our activities have all been legal and our demands totally legitimate, such as writing letters to officials in charge of workers' affairs and collecting signatures condemning indecent and below poverty line wages and demands for our independent unions and activities, which are all totally in line with workers' rights. Thus, according to sentences issued in our case, any attempt at improving your life by using legitimate means is considered an action against the national security of the country.
We fully know and admit that our activities endanger the peace of mind and security of those who benefit from illegal profiting through blatant exploitation of workers and teachers. However, we insist on challenging them and achieving what is rightfully ours.
The exploiters are putting us in prison by pretending that their security is the same as the country's national security. Therefore, we declare that, in protest against below poverty line wages and salaries, prohibition of right to strike, the lack of transparency by the ILO regarding the infringement of our rights by the Iranian regime and the absence of legitimate reasons for incarcerating protesters, we are beginning an unlimited hunger strike on April 29.
Jafar Azimzadeh, Evin prison, Section 8
Esmail Abdi, Evin prison, Andishgah 8
Original text http://www.etehadeh.com/?page=news&nid=4992
Please send protest messages demanding their release to:
Head of the Iranian Judiciary: larijani@maileskhobregan.ir
Speaker of the Iranian Parliament: a.larijani@parliran.ir
President of Iran: news@president92.ir
Copies of protests and solidarity messages should be sent to:
Free Union of Iranian Workers: k.ekhraji@gmail.com
Teachers and Workers Rights: info@bield.info