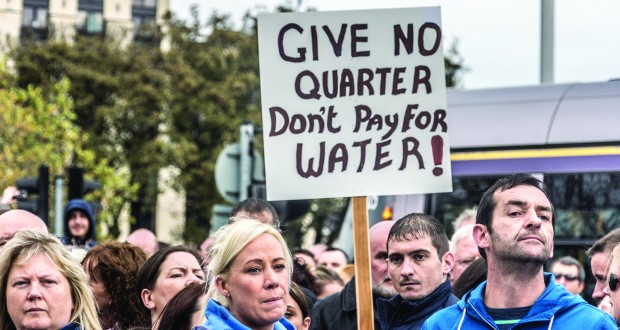 Protest movement and boycott force huge Establishment parties climb down
"What parliament does, the people on the streets can undo". Mick Barry TD (member of the Irish parliament, the Dáil) accurately described the key reason for the embarrassing climb down forced on the establishment parties – the massive movement that developed in towns and cities across Ireland over the last two years.
Victory for people power
Water charges have been suspended as a result of this people power movement. After two years of dominating the political agenda in this country, the political establishment has kicked the issue to touch, into the dark hole of Dáil commissions and committees who will eventually have to report back to the Dáil. Any recommendations will then have to be voted on by all TDs in the Dáil – but that is months, possibly years away. We have not won yet, but if ever there was proof that the mass boycott and anti-water charges/meters protests across the country have the establishment on the ropes, this is it.
This is an embarrassing and significant climb down on the part of the establishment parties, and we can be guaranteed that politicians from various parties will be clambering over each other to claim this as their "victory". We cannot allow Fianna Fáil and Co, those same parties that implemented austerity cut after austerity cut and never had any issue with water charges (indeed Fianna Fáil planned to implement water charges back in 2010!), to be credited with any of this.
No trust in Fianna Fáil
It is disappointing to see part of the anti-water charges movement looking towards Fianna Fáil as a party that can be trusted to stick by their election promises, or in any way to represent the interests of working class people. Let's be clear: if the establishment thought they could get away with it, they would re-establish water charges in a heartbeat and a significant part of them certainly still hopes that this will be the outcome of putting the issue on the long finger. We need to remain vigilant by keeping up the pressure and reminding them that they will have some battle on their hands if they dare to start charging for water again in any form.
Satisfying as it was to see Alan Kelly [former government minister responsible for water charges] surrounded by the remnants of the Labour Party, having to stand up in the Dáil and sulk like a toddler who has lost his favourite toy, this battle was not fought in parliament but in our communities. This embarrassing climb down was forced upon the parties of austerity because of the majority of people refusing to pay this unjust charge, because of the women and men organising their communities against Irish Water, because of the hundreds of thousands joining the protests against Irish Water, because of the one million plus people who made this an issue in the recent election by voting for a candidate who said (s)he was against water charges.
Let's take that lesson to its logical conclusion – through continuing the mass pressure and making sure they can't forget what we want and need: abolish the charges and the quango that is Irish Water altogether. Stop the metering programme. Refund all charges – often those who paid were scared into paying by the continuous bullying of Irish Water and the political establishment. Drop all charges against protesters. Invest in our water infrastructure to bring it up to scratch – and we would suggest to look in the direction of the Sunday Times rich list, this time, if the political establishment wants to tax anyone for this. That is the type of victory we must aim for.
Blow to neo-liberal agenda
For the first time since the start of the crisis in 2008, ordinary people have struck a significant blow against the neo-liberal agenda of never ending austerity. It shows us how we can similarly force this agenda to retreat on crucial issues, such as housing, health, education and workers' rights. The battles that are ongoing on the need to Repeal the 8th [banning a women's right to choose abortion] and to separate church and state should grow more confident in the knowledge that if we can mobilise the broad support on these issues into an active force, we can win victories.
Socialist Party & AAA role in water charges battle:
As well as participating in this mass protest movement against Irish Water, the Socialist Party and the Anti Austerity Alliance (AAA) have been to the fore, through our elected positions and campaigning work, in consistently arguing and popularising a mass boycott of the charge. This is acknowledged by some media commentators:
"So that makes [Paul] Murphy, his fellow members of the AAA-PBP Alliance [sic] and a number of Independent deputies the only politicians to emerge with honour in the Irish Water saga, no matter what people might think of their campaign. They've done no U-turns. They haven't flip-flopped with the prevailing populist wind. It's their victory. Not Micheál Martin's and not Gerry Adams's"
– Miriam Lord, Irish Times, 30 April 2016
"The political pivot on which swings the eventual outcome of talks to facilitate government formation between Fine Gael and Fianna Fáil is that Dublin South West by-election result. Then, a very small party, with a single TD in Joe Higgins, moved the entire political dialogue on water sharply left. It's an underappreciated achievement." – Irish Examiner, 27 April, 2016
Special financial appeal to all readers of socialistworld.net

Support building alternative socialist media

---

Socialistworld.net provides a unique analysis and perspective of world events. Socialistworld.net also plays a crucial role in building the struggle for socialism across all continents. Capitalism has failed! Assist us to build the fight-back and prepare for the stormy period of class struggles ahead. Please make a donation to help us reach more readers and to widen our socialist campaigning work across the world.

Donate via Paypal

CWI- Please inform us if you are reproducing any material from this site.