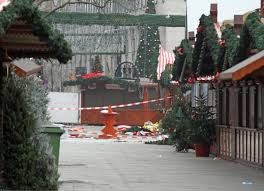 Commiserations must not be exploited for racism
On December 19 a lorry drove into the Breitscheidplatz Christmas market in west Berlin's city centre. Twelve people died, 48 injured. Although the background of the events are still unclear, right-wing forces are mobilising and politicians demanding a change of migration policy.
Our feelings and full sympathy are with the victims, their relatives and friends of Monday's event. They were innocent visitors and workers of the Christmas market along with the polish truck driver. Millions of people visit public spaces and Christmas markets. The shock and the feeling, that it could have been anyone is spread among people of Berlin and nationwide.
In the evening of the event a refugee was arrested in the connection with the event. But on the following day, Tuesday December 20, the authorities had to admit that he had nothing to do with the deed and released him. Still it is unclear who drove the lorry and is responsible.
Response of the right-wing
Even before any facts were established leading figures of the right-wing Alternative für Deutschland (AfD) tried to exploit the shock, fear and commiseration for their ends. The secretary of the AfD in North Rhine-Westphalia and member of European Parliament Marcus Pretzell rapidly Tweeted: "These are Merkel's deaths!", implying that migration of refugees was the reason for the alleged attack. A nazi campaign called a demonstration in Berlin under the slogan "Shut the Borders – Blood on Merkel's Hands". Another manifestation by the AfD has been announced in front of Merkel's office. Social media is full of racism against Muslims. This has to be fought irrespective who is responsible for the deed. If it becomes clear that the Islamic State's statement in which they claim responsibility is correct, it still does not mean that "island" or "Muslims" are responsible but a right-wing, reactionary political movement which seeks to establish a dictatorship who's main victims are Muslims in the Middle East.
The right wing seeks to divide us along the lines of origin, religion and sexuality, to put in practice their programme against social rights. They can't offer any solution against terrorism. Terrorist organisations do not have a need to rely on asylum rights or immigration through refugee routes. In fact it is suspected that two of the terrorists involved in the Paris attack only registered as refugees in order to be able to consciously discredit refugees. A racist reaction can actually serve the interests of reactionary groups of the right-wing political Islam. War and racist discrimination are important arguments for their recruitment inside Germany and outside.
Rightly many people are disgusted by the first responses from the right-wing. Many people shared facebook comments or pictures saying: "Terrorists and right-wing shall and will not win!"
Response by the establishment
But also some of the established politicians jumped on conclusions very fast. The head of the centre-right Christian Social Union (CSU) that rules Bavaria, Horst Seehofer, demanded a review of the immigration and security policies. "This is what we owe to the victims" was his statement. The CSU is part of Merkel's national coalition and other parts of the government criticised Seehofer for this premature conclusion. A leading figure of Merkel's Christian Democrat (CDU) withdrew his statement announcing that Germany is in a "state of war." But at a time when the German government is deporting refugees to Afghanistan despite big protests and many people are opposed to the foreign deployment of German troops, some leading politicians find it tempting to exploit the shock and sorrow of Berlin for their agenda of anti-asylum legislation and state armament.
It has been a terrible deed. A deed that any ruthless perpetrator would have been able to carry nearly everywhere. As long as the reasons which give such terrorist forces a social base among the oppressed and exploited are not eliminated, there is the severe danger that similar deeds will happen again.
There is a widespread anger about the far-right. Migrants are afraid that acts of revenge might happen against them. Time and time again migrants from the Arab world are held responsible for things that the vast majority of them opposes.
There is the rightful sentiment not to give in to terrorists, not to panic, not to strengthen the far right and help them to exploit the event. This is correct but not enough. Trade unions and the left must observe the measures taken by the state and criticise them if necessary. Racist prejudice and racist mobilisations must be combated. If Nazis demonstrate, they must be stopped and their lies must be answered with a clear programme to defend working class unity and change conditions.
Irrespective of who is responsible of the attack in Berlin we see over recent years how a vicious circle of war and terror develops and frightens more and more people. It is necessary to show a way out of the worldwide capitalist system which is responsible for this vicious circle and offers no solution for it.
When the background of the events is clear, it is necessary to thoroughly investigate the reasons and discuss about the causes of war and terror. We will then further comment on it.