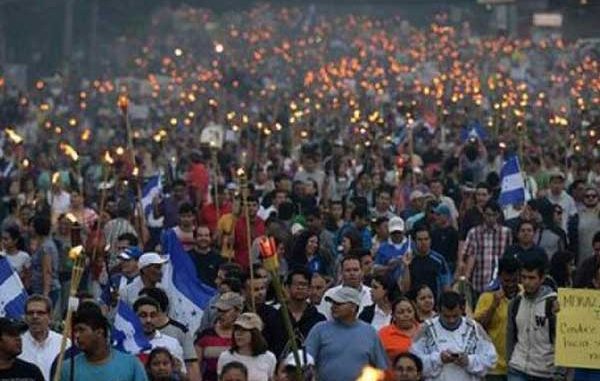 Después de que fracasara estrepitosamente el intento del gobierno de Juan Orlando Hernández (JOH) de legitimar su fraude electoral, aceptando el recuento de poco más de mil actas y tratando de incluir observadores de la oposición, la rebelión popular se extiende por todo Honduras.
La policía se niega a reprimir. Es momento de organizar la ofensiva para derrocar el gobierno
El día sábado 2 de diciembre, en varias ciudades, la población desafió el toque de queda saliendo a la calle a dar un "cacerolazo", denunciando la treta artera del recuento. Ya la movilización popular había hecho tambalear al gobierno y empujó a los organismos internacionales, como la OEA, a recomendar el recuento del 100% de las actas. Pero la oligarquía hondureña persistió en su postura y proclamó ganador a JOH. El domingo 3, intento ganar legitimidad con un show televisivo. La respuesta fue inmediata: las protestas convocadas el domingo aumentaron en fuerza y se extendieron por todo el territorio nacional hasta resquebrajar el aparato Estatal por sus puntos débiles. Sectores de la Policía Nacional, de base y unidades de élite, se han negado a seguir las órdenes de represión. Las escenas donde policías explican su negativa, expresan la presión de las masas en acción y fraternizan con el pueblo, se vieron durante el domingo y el lunes. Además denunciaban las precarias condiciones salariales y seguridad laboral. Y aunque la dirección de la policía y otros cargos de seguridad intentaron manipular a la opinión afirmando que era un conflicto gremial y económico, la mentira se desveló rápidamente y cambiaron su táctica por el silencio y la maniobra.
Los trabajadores a escena. Transformar la rebelión en revolución
La rebelión se ha extendido por todo el país, en decenas de ciudades y pueblos, convirtiéndose en muchos casos en una insurrección. Las barricadas en las calles y los grupos populares de autodefensa han paralizado por momentos la economía. Sin embargo, los políticos de la oposición como Nasralla y Zelaya se niegan a llegar a las últimas consecuencias; "se solidarizan" con las protestas, incluso acuden a algunas de ellas, pero al mismo tiempo llaman a la calma y la negociación. Públicamente se posicionan contra el fraude y denuncian a JOH, al TSE y a la Asamblea, y lanzan como alternativa el recuento de los votos. ¿Pero quién va a hacer el recuento, el mismo TSE controlado por JOH y su mafia?
Llevar el combate popular contra el Estado capitalista, responsable de la corrupción, de la violencia del narco, del entreguismo al imperialismo, y de la explotación, la miseria y el robo al pueblo es el punto central. Las organizaciones de trabajadores y todas las que están en lucha tienen la tarea de coordinar esfuerzos y construir una agenda de lucha unificada; golpear todos juntos, el mismo día, a la misma hora, en todo Honduras, convocando, organizando ya el Paro Nacional. Todo debe de parar; las fábricas, los talleres, las empresas, el comercio, los transportes.
Hay que pegarle a los ricos donde les duele, sostener el Paro hasta ponerlos de rodillas, obligarlos a que acepten todas las demandas del pueblo. Y estas no sólo deben ser las relacionadas con el fraude. Hay que basarse en la movilización de masas para levantar un programa de reivindicaciones inmediatas para mejorar las condiciones de vida del pueblo, de los trabajadores de las ciudades, de los campesinos y la juventud: Incremento drástico del salario mínimo; inversiones masivas en salud y educación pública; nacionalización—bajo el control democrático de los trabajadores y sus organizaciones— de la banca, las grandes empresas y las multinacionales imperialistas; expropiación de las grandes propiedades agrarias, tanto de la oligarquía nacional como de las transnacionales, y reparto de la tierra a los campesinos; defensa de los derechos de las comunidades indígenas; depuración del aparato estatal, judicial, militar y policial de elementos vinculados con las viejas dictaduras y reaccionarios; lucha contra el narcotráfico sobre la base de la autodefensa popular y con un plan de choque para mejorar las condiciones de vida, las infraestructuras y servicios públicos de nuestras colonias y comunidades. Por supuesto, el movimiento de masas y sus organizaciones y organismos deben llamar a la solidaridad internacionalista y a la movilización de los trabajadores y del pueblo centroamericano, de Latinoamérica y de todo el mundo en apoyo a su causa.
Para llevar a cabo ese programa es necesario impulsar la acción independiente de las masas, y crear organismos del poder popular desde la base: comités de acción en todas las ciudades y localidades que organicen la movilización y el paro nacional, defendiendo un programa a favor de la transformación socialista de Honduras.
Muchos años de atropellos han pasado sobre nosotros, ahora es momento de pasar a la ofensiva. Los trabajadores, junto al pueblo, campesinos pobres y estudiantes tienen la oportunidad de tomar en sus manos las riendas de la lucha y llevarla hasta derrocar al gobierno y desterrar de Honduras a la oligarquía, al imperialismo y la explotación.
¡Viva la lucha del pueblo de Honduras!
¡Paro Nacional ya!
Special financial appeal to all readers of socialistworld.net

Support building alternative socialist media

---

Socialistworld.net provides a unique analysis and perspective of world events. Socialistworld.net also plays a crucial role in building the struggle for socialism across all continents. Capitalism has failed! Assist us to build the fight-back and prepare for the stormy period of class struggles ahead. Please make a donation to help us reach more readers and to widen our socialist campaigning work across the world.

Donate via Paypal

CWI- Please inform us if you are reproducing any material from this site.