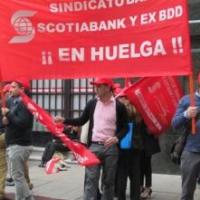 Scotiabank, la tercera huelga en un banco en lo que va del año 2014
Ayer miércoles 15 de octubre, cerca de 1.500 trabajadores de Scotiabank en Chile, hicieron efectiva la huelga votada por el 97% de los socios del sindicato Scotiabank ex BDD.
Se trata de la tercera huelga en un banco en lo que va del año 2014, una situación no vista en muchos años. Antes estuvieron en huelga Banco Ripley, y Banco Paris, ahora es el turno de Scotiabank. La huelga de Banco Ripley duró siete días, y sus resultados fueron moderamente exitosos respecto a los que la empresa estuvo dispuesta a ceder antes de la huelga, sin embargo cuando escribo estas líneas, a poco más de un mes del fin del conflicto, ya son alrededor de veinte los trabajadores despedidos del sindicato, entre ellos los delegados más activos en la movilización.
El caso de Banco Paris es más dramático. Banco Paris es parte del holding Cencosud cuyo dueño es Horst Paulmann, chileno – alemán, dueño del holding Cencosud, que opera cadenas de supermercados, centros comerciales y tarjetas de crédito, con presencia en Chile, Colombia, Argentina, Perú y Brasil, y uno de los hombres más ricos del planeta. Con el grueso de las colocaciones hipotecarias transferidas a Scotiabank, y un proceso de cierre de sucursales y disminución de personal desde el año 2012, tras la huelga casi todas las sucursales han sido cerradas y los trabajadores sindicalizados despedidos. Al parecer Horst Paulmann prefiere concentrar su negocio de crédito bancario, en la "banca en las sombras" desregulada, mediante su gigantesca cadena de multitiendas Paris.
El Banco Scotiabank ha tenido excelentes utilidades. La intransigencia frente a las demandas de los trabajadores, muestra claramente que estas instituciones financieras no quieren compartir con sus trabajadores, que son los que crean la riqueza con su esfuerzo, ni siquiera un poco de esta ingente ganancia.
Banco Scotiabank
Resultados parciales del ejercicio en el mes indicado(Cifras en millones de pesos):
Ago-14: 52235
Ago-13: 37235
Aumento en el periodo: 15000
% aumento en el periodo: 40,28%
Fuente: Superintendencia de Bancos e Instituciones Financieras.
Lo que ha desencadenado las huelgas del sector bancario en 2014, es el creciente malestar de los funcionarios bancarios, que ven que los bancos cada vez ganan más, pero no ocurre lo mismo con sus con sus remuneraciones, sus condiciones de trabajo y nivel de vida. La banca que opera en Chile ha tenido resultados espectaculares, especialmente comparados con la desaceleración y el frenazo al crecimiento que vive actualmente la economía chilena. Al mismo tiempo, las gerencias de los bancos aumentan y entrelazan el cumplimiento de manera unilateral y permanente las metas a las que están vinculados bonos y comisiones, y se niegan a incluirlas en las negociaciones colectivas con los sindicatos. Como resultado los trabajadores bancarios sufren disminuciones abruptas de sus remuneraciones. Las remuneraciones variables han ido en permanente aumento, lo que permite a los bancos aumentar las extensiones no remuneradas por horas extras de la jornada laboral.
¿Cómo han  conseguido los bancos incrementar la intensidad y extensión del trabajo? Han impuesto una verdadera ideología individualista: La Meritocracia. Se supone que los funcionarios son calificados y remunerados de acuerdo a su mérito. Así acceden a comisiones por cumplimientos de metas, que se han ido generalizando también al personal no comercial. La extensión no remunerada de la jornada de trabajo, la han logrado mediante el recurso al uso mañoso del artículo 22 del código laboral, que libera de control horario a los gerentes, y que los bancos han hecho extensivo a la fuerza de venta nombrándolos "ejecutivos comerciales", aunque no tienen responsabilidades gerenciales. Los funcionarios presionados a cumplir las metas pueden trabajar jornadas muy largas, a veces hasta 12 horas al día e incluso vendedores colocan créditos sábados y domingos. Con la excusa de dar "oportunidades" de mejora salarial, cajeros, personal de atención a clientes en mesón y vigilantes son invitados y presionados a vender productos de los bancos, como seguros. Las metas obligan a los ejecutivos comerciales a "atar" a los créditos otros productos como tarjetas y seguros, que en realidad algunos que los clientes no necesitan y tienen siniestralidad cercana a cero. Los abusos contra los clientes que este sistema ha provocado han sido ampliamente denunciados por los medios en algunos momentos, e incluso se ha intentado legislar, con nula consecuencia práctica, como suelen ser las leyes en Chile es estos casos.
En otros artículos hemos visto como también colaboran a las súper ganancias de la banca, en época de desaceleración del crecimiento, las bajas Tasas de Política Monetaria fijadas por el Banco Central, que son una fuente de financiamiento de la banca. Hay que agregar también los depósitos de los clientes en los bancos con bajas tasas de interese, los fondos previsionales de las AFP que los bancos pueden conseguir a tasas del 4 ó 5% anual, para después prestarlos a los propios trabajadores, que en teoría son los dueños de esos fondos, a tasas de interés del 40 y 65% anuales.
El aumento de la inflación también beneficia a los bancos, que han llegado a recibir dinero del Banco Central a interés real negativo, con intereses nominales de Tasa de Política Monetaria inferiores a la inflación. Lo mismo se aplica a los depósitos no indexados mediante la UF a la inflación, remunerados con tasas en pesos nominales, mientras las colocaciones de créditos si  consideran la inflación.
Negociación Colectiva.
En la banca, como en general en el país, más que negociación colectiva los sindicatos se enfrentan a "contratos de adhesión". Esos contratos de "lo toma o lo deja" que los bancos conocen tan bien, al colocar créditos. El código laboral que heredamos del plan laboral de la dictadura, y que los sucesivos gobiernos civiles no han tenido voluntad de cambiar, está diseñado para reducir el poder de negociación de los sindicatos. La negociación y la huelga está normada hasta el extremo para tornarla inefectiva. El Código Laboral y la práctica del multi RUT promueven la división y la multiplicidad sindical.  Y por si esto no fuera suficiente, la banca se ha caracterizado por las prácticas anti sindicales. Este año los sindicatos bancarios han denunciado prácticas anti sindicales, que incluyen hostigamiento, descuentos indebidos, castigos en metas y despidos de trabajadores que participaron en huelgas, e incluso una agresión física a un dirigente sindical del banco BICE.
En un país en franco deterioro económico, los bancos ganan como nunca pero no comparten las utilidades, o el botín, con sus trabajadores, que están cansados de que sus aspiraciones sean postergadas permanentemente.
Special financial appeal to all readers of socialistworld.net

Support building alternative socialist media

---

Socialistworld.net provides a unique analysis and perspective of world events. Socialistworld.net also plays a crucial role in building the struggle for socialism across all continents. Capitalism has failed! Assist us to build the fight-back and prepare for the stormy period of class struggles ahead. Please make a donation to help us reach more readers and to widen our socialist campaigning work across the world.

Donate via Paypal

CWI- Please inform us if you are reproducing any material from this site.