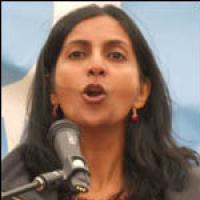 Kshama Sawant reelegida
La votación, en la que Kshama Sawant obtuvo el 55,47% de los votos, se produjo la semana pasada. El siguiente artículo de Patrick Ayers (Alternativa Socialista, CIT en EEUU) fue publicado en socialistalternative.org el 4 de noviembre.
Los socialistas no solamente pueden ganar representación en las instituciones sino que pueden ser reelegidos. En el momento de escribir estas líneas, con alrededor de un tercio de los votos contados, el 52,6% de los votantes del Distrito 3 de Seattle han elegido a Kshama Sawant para otro mandato de cuatro años como concejal en el ayuntamiento. Como los últimos votos suelen estar a nuestro favor, podemos proclamar nuestra victoria con confianza.
En el barrio de Capitol Hill de Seattle esta noche cientos de simpatizantes de la campaña están celebrando nuestra fiesta de noche electoral. La gente ha ganado confianza gracias al impresionante trabajo de Kshama en el ayuntamiento y nuestra intensa campaña en las calles.
La noche del lunes 2 de noviembre el miembro de Alternativa Socialista y mecánico en Boeing IAM Jeremy Prickett se dirigió a los voluntarios que se habían reunido para la última noche de campaña puerta a puerta. "Hermanos y hermanas, es un privilegio para nosotros estar aquí hoy porque durante demasiado tiempo la política ha estado fuera del alcance de la clase trabajadora. Alternativa Socialista y Kshama Sawant están cambiando esto".
Más de 600 voluntarios, 30 sindicatos y decenas de organizaciones progresistas han apoyado a Kshama contra su oponente electoral, al que apoyaban gerentes de empresas, la Cámara de Comercio, los lobbies inmobiliario y de arrendadores, Amazon, dueños de tugurios, 6 concejales conservadores del ayuntamiento e incluso un puñado de republicanos millonarios que crearon su propio Comité de Acción Política (grupos de financiación de campañas) para atacarnos y apoyar a nuestro oponente, del Partido Demócrata, durante las últimas semanas.
Contra la oposición de un "establishment" poderoso, junto con el eco de los ataques vitriólicos de la Cámara de Comercio y sus desorbitantes cuentas bancarias, nosotros llamamos a 90.000 puertas, e hicimos 170.000 llamadas de teléfono. Hablamos con miles de personas sobre vivienda asequible, desigualdad, aumentar los impuestos a los ricos, y políticas a favor de la clase trabajadora. Fue una campaña desde las bases sin precedentes en la política de Seattle.
Un nuevo tipo de políticas
Como sugieren las palabras de Jeremy, para muchas personas ésta era mucho más que la campaña de reelección de Kshama. Se trataba de construir un tipo de política completamente nuevo que no se disculpe por luchar por las familias trabajadoras y no por las grandes empresas. Se trataba de mostrar que era posible que la gente trabajadora se organizara.
En la era de Ciudadanos Unidos (organización que apoya campañas conservadoras) y en el año en el que las empresas de Seattle han gastado cinco veces más que nunca en las elecciones locales, hemos roto los récords de recaudación de fondos para la carrera electoral, derrotando a las empresas. Recaudamos cerca de medio millón de dólares de más de 3.500 donantes. Nuestra donación mediana fue de solamente 50 dólares y más personas donaron a nuestra campaña desde Seattle y nuestro distrito que parea ningún otro candidato en toda la ciudad. Como la campaña de Bernie Sanders, que también rechaza las donaciones de empresas y recaudó 28 millones de euros en 3 meses, la campaña de Kshama es una manifestación del gran potencial para las políticas de clase trabajadora independientes en los EEUU.
"El grado con el que (Kshama Sawant) derrotó a todos en algunos aspectos de recaudación y su habilidad para tener muchos pequeños donantes es la señal más clara en estas elecciones de que la vieja guardia ha sido sacudida" – Crosscut.com (diario online de Seattle)
Construcción del movimiento
Nadie en Seattle ha causado más dolores de cabeza a los poderes establecidos en los últimos dos años que Kshama Sawant. "Llevo el nombre de socialista con orgullo", declaró en enero de 2014 en su discurso de inauguración después de haber derrotado al que había sido concejal durante 13 años. Entonces prometió: "No habrá acuerdos a puerta cerrada con las empresas o con sus lacayos políticos. No habrá traiciones a la gente que represento.
Y Kshama lo cumplió. Su oficina se convirtió en un centro para la resistencia obrera, ayudando a arrendatarios, trabajadores, gente de color y de la comunidad LGBTQ, inmigrantes e indígenas. Kshama empujó el debate político hacia la izquierda. "Vivienda asequible" se ha convertido en una de las expresiones más repetidas. Sin embargo, Kshama fue bloqueada muchas veces por la mayoría conservadora en el ayuntamiento que está atada a las grandes empresas de mil maneras diferentes. Pero nunca cedió en su lucha sin descanso por los intereses de la gente trabajadora, explicando una y otra vez que lo que podía ganarse en los plenos del ayuntamiento dependía principalmente de la fuerza del moviento fuera – y haciendo activamente todo lo posible para ayudar a construir este movimiento.
El mismo espíritu impregnó la campaña electoral. Aunque sabíamos que teníamos una posición fuerte con un mar de posters rojos y carteles en los patios del distrito, no tomamos nada por sentado dada la forma en la que la democracia es retorcida por el capitalismo, donde el dinero compra votos y los medios de comunicación estrechan y distorsionan los debates. Por el contrario, nosotros nos basamos en la construcción de una fuerza independiente que podría alcanzar a miles de votantes activando a gente trabajadora y joven para hablar a otros miles de personas en la puerta de sus casas.
Cuando tres diferentes Comités de Acción Política inundaron la campaña con 60.000 dólares en las últimas semanas de campaña, nuestro movimiento de bases estaba preparado. En pocos días fuimos capaces de poner miles de panfletos en los buzones del distrito, alertando a los votantes de la marea de dinero de los Comités. Y cuando nuestro oponente envió dos ataques en forma de correos con publicidad negativa en la última semana, de nuevo sacamos otro panfleto distribuido a miles de casas para exponer la falsedad de sus ataques.
Un ejemplo de construcción
Como primera concejal socialista electa en Seattle en un siglo, la reelección de Kshama tuvo una importancia mayor que una elección local media. Al Jazeera la calificó como una de las 7 elecciones a seguir en todos los EEUU. La campaña tuvo lugar contra el transfondo nacional del creciente apoyo a la campaña de Bernie Sanders como presidente socialista y su llamamiento a una "revolución política contra la clase billonaria".
Sin duda, la experiencia de los últimos dos años en Seattle ha proporcionado muchas lecciones para los socialistas y la gente trabajadora en todo el mundo. Kshama sería la primera en decir que la diferencia clave en Seattle ha sido la existencia de un movimiento socialista organizado en Seattle, y particularmente de Alternativa Socialista.
Hemos proporcionado un apoyo político clave a Kshama para ayudarla a superar las presiones de un cargo electo y la construcción de un movimiento. Juntos, fuimos capaces de dar un liderazgo exitoso y dirigir la rabia que crecía contra la desigualdad, los alquileres desorbitados, un poder establecido sin contacto con la realidad hacia un movimiento que se basa en su propia fuerza, su fuerza organización y sus propios recursos.
Las oportunidades de construir el movimiento socialista en los EEUU están aumentando. El capitalismo ha fallado completamente a las familias trabajadoras. La gente está harta del poder de las empresas y hay un interés creciente por las ideas socialistas, que se refleja en el intenso interés cuando Bernie Sanders explicó por qué se considera un socialista democrático en el debate con Hillary Clinton. El movimiento por un salario mínimo de 15 dólares por hora ha ganado una serie de victorias imporantes alrededor del país, los estudiantes están empezando a luchar contra las deudas que contraen para estudiar, y una nueva generación de jóvenes activistas se han activado con la campaña "Black Lives Matter" (Las vidas negras importan). El mundo está cambiando y nunca ha habido un mejor tiempo para unirse a los socialistas.
Nuestro trabajo, de ninguna manera, termina esta noche. Tenemos que aprovechar esta oportunidad para construir sobre nuestra victoria. En primer lugar, esto significa aun más organización. Ha sido la construcción del movimiento la que nos ha llevado tan lejos. Pedimos a toda la gente que se unan a Alternativa Socialista y nos ayuden a organizar movimientos aún más fuertes que puedan ganar más victorias en los próximos años.
Esta noche en Seattle, con la elección de Kshama asegurada, nuestros voluntarios están disfrutando de una celebración bien merecida que probablemente durará hasta bien entrada la noche. Estamos orgullosos de saber que tantas personas alrededor del país y del mundo están celebrándolo con nosotros. Esta victoria pertenece a los socialistas y la gente trabajadora de todas partes. Juntos, tenemos un mundo que ganar.
Special financial appeal to all readers of socialistworld.net

Support building alternative socialist media

---

Socialistworld.net provides a unique analysis and perspective of world events. Socialistworld.net also plays a crucial role in building the struggle for socialism across all continents. Capitalism has failed! Assist us to build the fight-back and prepare for the stormy period of class struggles ahead. Please make a donation to help us reach more readers and to widen our socialist campaigning work across the world.

Donate via Paypal

CWI- Please inform us if you are reproducing any material from this site.