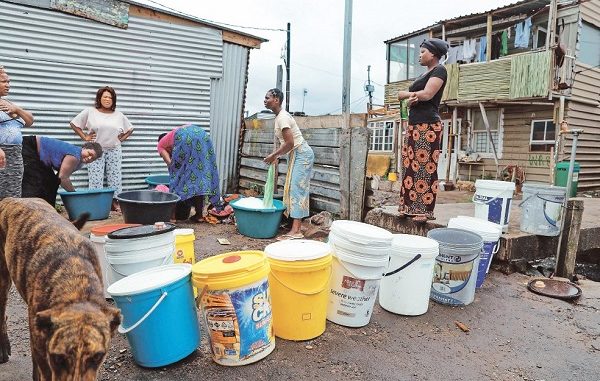 En junio, Ciudad del Cabo, con 4 millones de habitantes, podría ser la primera gran ciudad del mundo en quedarse sin suministro de agua corriente. Sus habitantes ya sufren restricciones, no pudiendo consumir más de 50 litros al día, y se preparan para el llamado "Día Zero", cuando los embalses que surten la ciudad, si sigue sin llover, queden a un 10% de su capacidad. Ese día se cortará completamente el suministro, colocándose 200 puntos de abastecimiento de agua por toda la ciudad y restringiendo el consumo a 25 litros por persona.
Esta situación no afecta por igual a ricos y pobres en una ciudad y un país con enormes desigualdades: el 10% de la población acumula el 90% de la riqueza total. Las autoridades municipales, por ejemplo, han abierto el acceso a los manantiales en la Montaña de la Mesa (cercana a la ciudad) a cualquiera que pueda acercarse con un bidón, pero los habitantes de los suburbios pobres, grandes barrios chabolistas, carecen de coche o cualquier otro medio de transporte para llegar. Por otro lado, en los barrios ricos se sigue llenando, a pesar de las restricciones, las piscinas y regando los jardines. Por 6.000 dólares se alquilan máquinas de perforación para acceder a las aguas subterráneas, estableciéndose pozos privados en jardines y parcelas; por otros 2.000 dólares se venden máquinas que convierten la humedad del aire en agua potable; y por 400 dólares se puede comprar una lavadora de bajo consumo en agua. Los que pueden compran masivamente botellas y bidones de agua, que acumulan en sus casas. Esto ha supuesto un incremento salvaje de los precios y que los especuladores comiencen a hacer su agosto. Los que tienen dinero pueden seguir arramblando con las reservas de agua, mientras la mayoría de la población pobre se enfrenta a una situación catastrófica.
Diversas comunidades se están organizando contra multinacionales como Coca Cola, que a pesar de la situación de emergencia, continúan consumiendo ingentes cantidades de agua. Mientras se reduce el consumo doméstico o se restringe el uso de agua a granjas y agricultores, lo que amenaza también el abastecimiento alimentario, Coca Cola gasta 2 millones de litros al día (530 millones al año) para su producción. Fabricar un litro de Coca Cola supone gastar dos litros de agua, y por eso las comunidades exigen que cese su producción mientras la crisis continúe. Pero es aún peor. Coca Cola, para no depender de las pocas reservas que quedan en los embalses, también está perforando para acceder a las aguas subterráneas, que podrían verse contaminadas por dichas operaciones o porque acceda el agua del mar a las mismas quedando inutilizadas para el consumo humano.
Esta crisis es otra muestra del callejón sin salida del capitalismo. La combinación del cambio climático, consecuencia de la anarquía y la voracidad capitalista, con el crecimiento desordenado y caótico de las ciudades, y la falta completa de cualquier tipo de planificación (imposible bajo el capitalismo) impide solucionar problemas de esta magnitud. Una planificación ordenada, utilizando los enormes avances tecnológicos y construyendo infraestructuras adecuadas que permitan aprovechar y no malgastar los recursos naturales, como el agua, permitiría comenzar a resolver situaciones incluso tan graves como ésta. Pero eso es completamente incompatible con el negocio y el lucro privado, que hasta el último momento, e incluso en una situación así, trata de enriquecerse a costa de la necesidad de la inmensa mayoría.
Special financial appeal to all readers of socialistworld.net

Support building alternative socialist media

---

Socialistworld.net provides a unique analysis and perspective of world events. Socialistworld.net also plays a crucial role in building the struggle for socialism across all continents. Capitalism has failed! Assist us to build the fight-back and prepare for the stormy period of class struggles ahead. Please make a donation to help us reach more readers and to widen our socialist campaigning work across the world.

Donate via Paypal

CWI- Please inform us if you are reproducing any material from this site.